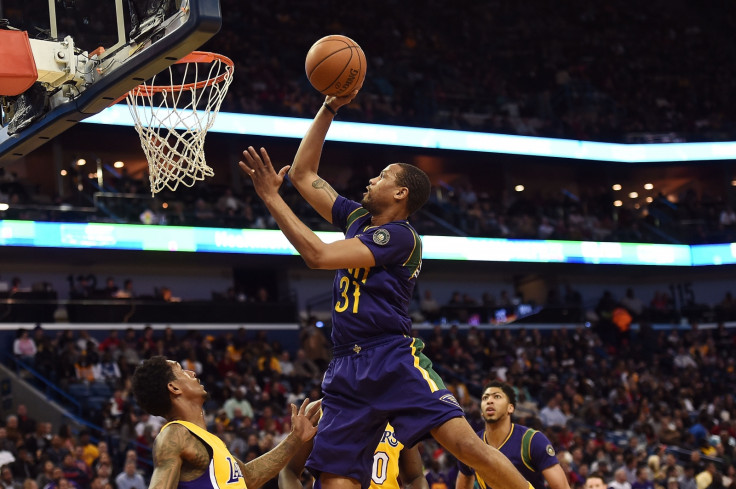 NBA star Bryce Dejean-Jones was shot dead on Saturday after breaking down the door of an apartment in Dallas that he thought belonged to his girlfriend. The apartment's owner shot Dejean-Jones with a handgun in apparent self-defence after the basketball player, 23, started kicking the man's bedroom door.
Dejean-Jones collapsed in a breezeway and later died at hospital. He died from gunshot wounds to his abdomen.
His agent, Scott Nichols, said that Dejean-Jones had been in Dallas visiting his girlfriend for his daughter's first birthday. After going out together, Dejean-Jones went to walk while his girlfriend returned to the apartment, according to Nichols. Sources told ESPN that the couple had got into an argument.
Dejean-Jones' girlfriend lives on the fourth floor of the complex but he went to the third. Nichols said: "He went to the wrong apartment unfortunately and I think he thought his girlfriend locked him out, so he was knocking on the door, banging on the door, it's locked… So one thing led to another."
Dejean-Jones was a shooting guard with the NBA team, the New Orleans Pelicans, who he signed a multi-year contract with in February. The 6ft6 player started 11 out of 14 games with the Pelicans.
The team said in a statement: "We are devastated at the loss of this young man's life who had such a promising future ahead of him. Our thoughts and prayers are with Bryce's family during this difficult time."
In Texas, people are allowed to use deadly force to protect themselves in their home. No charges have been filed against the resident who shot the player.
In a statement, NBA commissioner Adam Silver said: "The NBA family mourns the tragic loss of New Orleans Pelicans guard Bryce Dejean-Jones. Bryce inspired countless people with his hard work and perseverance on his journey to the NBA, and he had a bright future in our league. Our thoughts and sympathies are with Bryce's family and the entire Pelicans organisation during this difficult time."