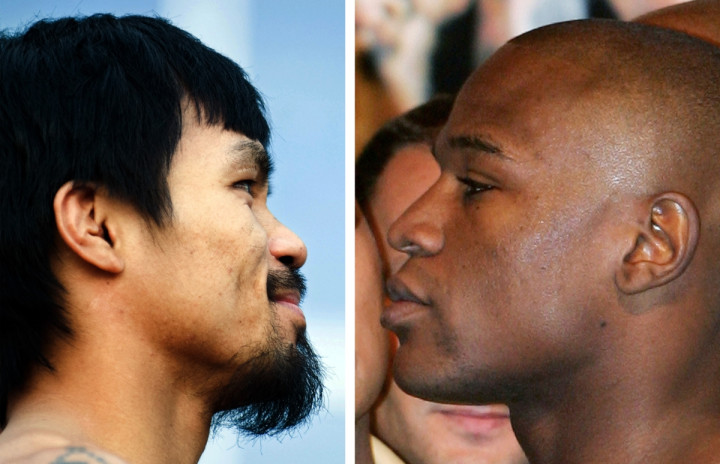 Manny Pacquiao still wants to face Floyd Mayweather Jr before retiring, but has warned his rival he is running out of time to make the showdown happen.
The two biggest names in the welterweight division have sized each other up for years but disputes over television rights, blood testing and Mayweather's refusal to do business with Pacquiao's promoter Bob Arum have prevented a contract from being signed.
The unbeaten American is currently preparing for a September rematch with Marcos Maidana while Pacquiao is preparing for his first WBO welterweight title defence against Chris Algieri in Macau.
As ever, the prospect of an eventual meeting between the two is of interest to the 35-year-old Filipino, although he believes it is up to the best pound for pound fighter in the sport to make the first move.
"The possibility to fight with him, you know, the question is not for us," Pacquiao said. "It's for them because any time we are willing to fight, any time. I think that question belongs to them, their camp."
With the British duo of Amir Khan and newly crowned IBF champion Kell Brook also vying to displace Mayweather at the summit of the welterweight division, there is no shortage of possible opponents for the veteran.
But with more possible delays in making Mayweather v Pacquiao happen, Freddy Roach, the Filipino's coach, has urged the opposing camp to make a decision sooner rather than later.
"We can't waste our time waiting for him," Roach told AFP. "We have done everything we could to make that fight happen.
"It's like, we are available if he's interested in it, but again we can't sit around waiting for him."
Pacquiao's promoter Arum added that television companies HBO and Showtime, whose contractual wranglings have proved troublesome in the past must "find a way to promote and satisfy both sides from a legal basis", if the showdown is to ever happen.
"With Showtime and HBO wanting the fight and Manny wanting the fight, there is one little step to take and that's to see where Floyd stands," he said.