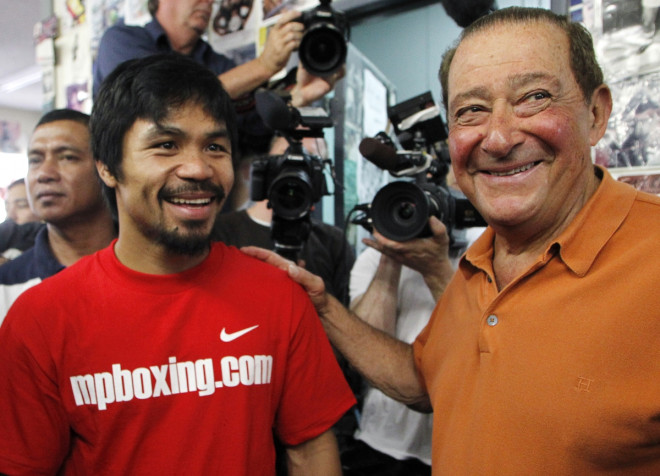 Manny Pacquiao's camp have taken aim at Floyd Mayweather Jr's treatment of Amir Khan after the Brition was forced to appeal to the unbeaten American for clarification regarding a potential bout in May.
Khan prevailed in an online poll held by Mayweather but the two-time former world champion is still to agree a deal for a prospective fight later this year.
The lack of clarity over a fight despite winning the online vote over Marcos Maidana on the Mayweather Promotions website has frustrated Khan and promoter Bob Arum has criticised the handling of negotiations.
Arum currently represents Pacquiao, who continues to pine for a meeting with Mayweather, but used to work with the 36 year old before a split in 2006 which is said to be signficant in his desire to clinch a deal with Flipino.
And Arum's latest comments are unlikely to endear him to Mayweather and threatens to consign a duel with Pacquiao to the realms of fantasy.
"What he has done to Amir Khan is absolutely disgraceful, whether he ends up fighting him, or he doesn't," Arum told The Daily Telegraph.
"My feeling is he is not going to fight him, but it's disgraceful to do that to another human being because you are in a position to do that. Just because he has the power where you can do something like that.
"If a promoter did it, if a Bob Arum or a Frank Warren did it the press would be all over them. They have allowed Mayweather to get away with this s***. It's terrible.
"They have twisted the kid in the wind. Mayweather should be ashamed of himself. He's not going to sign the contract. I think he will fight Maidana."
Though the Argentina Maidana has downplayed a deal having been agreed with Mayweather, the delay to a contract being signed with Khan suggests the WBA welterweight champion remains an option.
Over the weekend, Khan expressed his disappointment in the hold up of talks and questioned the legitimacy of the online poll which the 27 year old won by a landslide.
"Cut your ties with these people, be a man," Arum advised Khan. "You were the great hope of England at one point. I have Olympic gold medal winners with me. The pride with which Vasyl Lomachenko and Zou Shiming carry themselves is astonishing.
"These people will never be humiliated like that," Arum added. "Amir Khan has put himself in a position where he can be humiliated. He's like a laughing stock. Terrible. Absolutely terrible.
"He's not fighting back and telling these guys to get lost. Get another promoter, maybe go back to Frank Warren, get another opponent and tell them to p*** off."