Perhaps the only thing less surprising about about Manny Pacquiao's dominant victory over Chris Algieri was the heightened talk of Pacquiao vs Mayweather 2015 that emerged as a result of it.
No sooner had the Filipino fighter been awarded the win after a huge margin on the judges' scorecards was he urging Floyd Mayweather Jr to agree to a fight the boxing world has been waiting for.
Top Rank CEO Bob Arum insists the time is now or never for a long-awaited clash between the two welterweight kings but what if it is never? The five weight world champion remains as uninterested in the showdown as ever and with just two more fights remaining in his current Showtime contract before his possible retirement in September 2015, the reasons why the fight will not happen continue to outweigh those that suggest it will.
Victories over Brandon Rios, Timothy Bradley and now Algieri have Pacquiao back among it following consecutive losses that left his future in doubt inn 2012. IBTimes UK considers the alternative options for him should Mayweather continue to evade his challenge.
Juan Manuel Marquez
The ease in which Pacquiao dispatched of New Yorker Algieri will have done little to boost the Filipino's deteriorating PPV numbers. Should Pacquiao vs Mayweather remain a dream fight and nothing more, a fifth renewal of the latter's rivalry with Juan Manuel Marquez likely represents his best shot of securing a truly "box office" fight in 2015.
The fight appeared to be a possibility during the summer before the Algieri bout was confirmed but disagreements over fiscal terms saw it fall by the wayside – Marquez reportedly wanted a 50-50 split of the fight's purse, an offer Arum was not ready to entertain.
While their first encounter ended a split decision draw, Marquez was credited with outboxing his opponent after recovering from three early knockdowns. The Filipino would secure the win in their next two battles but the the impetus was left with Pacquiao to push for a fifth after his brutal knock out at the hand of the Mexican in 2012.
That last meeting brought over one million PPV buys Stateside, a figure a Pacquiao fight has not even come close to hitting in subsequent bouts with Rios, Bradley and Algeiri. It seems a logical move for all involved.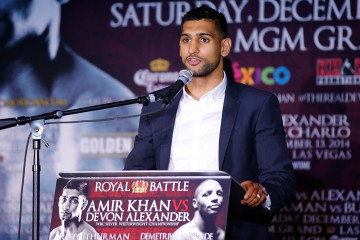 Amir Khan
Amir Khan remains in the frame for a bout with Mayweather despite the 37-year-old boxer selecting Marcos Maidana ahead of the Bolton-born fighter last April.
If anything, the five weight world champion remains much more receptive to the idea of meeting with Khan than entertaining the idea of a showdown with Pacquiao.
However, Khan remains open to both. But whether the Khan of today, the more measured fighter compared to the one who would enter the ring all guns blazing – often to his detriment – is still an attractive option for US television networks remains to be seen.
But the 27-year-old recently claimed his Golden Boy promoters have held discussions with Arum and Top Rank while Pacquiao said earlier this month he is interested in fighting Khan in the UK.
A positive performance against Devon Alexander in December will boost the his chances of getting the fight, although a promised grudge match with fellow Brit Kell Brook also remains on the horizon once the IBF champion completes his recovery after being stabbed in August.
Danny Garcia
While Pacquiao and Arum may still harbour hope of enticing Mayweather, trainer Freddie Roach is already looking ahead to the alternatives. The 54-year-old coach is dismissive of suggestions his former learner Khan is a viable candidate, recently claiming the former two-time world champion used to get regularly knocked out by Pacquiao in sparring sessions. In his eyes, 26-year-old Danny Garcia is the logical step.
"Danny Garcia at 140, we'll go there," added Roach. "There are options out there. Mayweather's not everything."
Garcia's healthy record of 29 wins (17 via knockout) and no losses ensures he remains among those up for consideration, particularly with his dominant wins over Khan and Erik Morales still fresh in the memory of some.