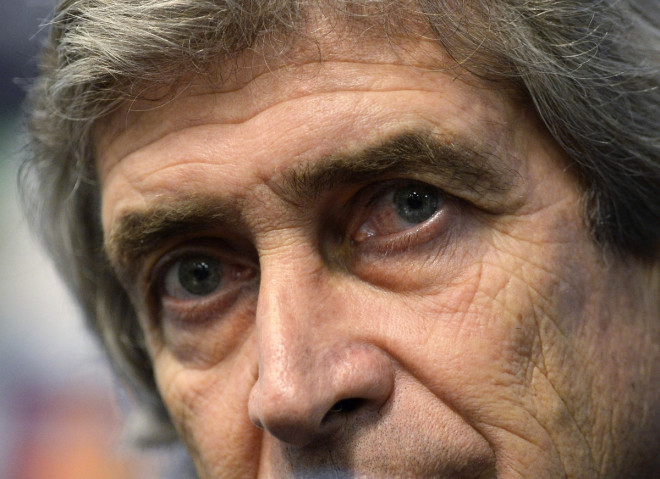 Alejandro Jodorowsky is Chile's most famous master of the arts. A specialist in avant-garde films, performances built to push the boundaries of modernism, Jodorowsky, 85, is heralded as among the South America's finest exports with an almost permanent residency in Paris.
Manchester City – managed by steely fellow-countryman Manuel Pellegrini – have been guilty of creating their own theatre this season. Showmanship of the highest order has helped sweep aside all before them in the Premier League.
But after meeting their match in Barcelona, with Lionel Messi and Dani Alves' goals all but leading to City's curtain call in the Champions League, Pellegrini has turned pantomime villain.
Upon entering stage left for his post-match press conference, Pellegrini verbally accosted referee Jonas Eriksson first with accusations regarding individual decisions against Jesus Navas and Martin Demichelis, and then at the Swede's personal integrity.
It's moment like these at which the press corps thrive. Media officers would normally be hastily downplaying such damaging remarks, stifling questions and watering-down headlines as best they could. But in similar fashion to how the pre-match Catalonian favourite paella was presented in the media lounge, the juicy lines were there to feast upon.
Though the club's communications departure may have been unawares, Pellegrini's scathing criticism which will land him in hot water with Uefa, surely possessed an ulterior motive; to mislead. Filmmaker and actor Jodorowsky would have applauded such deception.
Pellegrini's comments rapidly engulfed and overshadowed a game which – build as City's induction onto the continental A-list - failed to muster a performance of note from the home team.
It's important to note that while Jose Mourinho was only mischievous in downplaying the capabilities of Gerardo Martino's Barcelona under transition, the four-time European Cup winners are a shadow of their former selves.
But if Xavi, Cesc Fabregas and Andreas Iniesta were to be disrupted City had to embraced their illustrious opposition. From the outset they offered both too much respect and a marker for the remainder of the tie.
Though City survived a chastening first half, offering scant little in attack with Alvaro Negredo provided a willing, if anything but ideal focal point, it took just eight minutes after the break for Barca to penetrate their fallibility at the back.
Demichelis was left trailing in a foot race with Messi and with one swipe ended both this European season and his team's. There is some heavy irony that amid a performance in which City were playing for the long term, their Argentine centre-back couldn't see the bigger picture in allowing the Barcelona forward to go free and confront Joe Hart. Though maybe few would have.
If football's unwavering assault on becoming a non-contact sport is become a reality, then more managers must repeat Pellegrini's ludicrous argument against the penalty award. The contact outside the box was not sufficient for a spot kick to be awarded, but inside Demichelis couldn't help but follow through. His haphazard approach to defending shows no sign of abating.
City did rouse themselves, but never did they recapture their domestic form. The tone had been set in the first half and Pellegrini's side were unable to go through the gears. Alves' second after he evaded Gael Clichy is merely an extra cushion for Barcelona that sees City's task at the Nou Camp slide from the complex to the near impossible.
The only fireworks from the hosts flew post-match, as Pellegrini took the officiating to task. It carried the comic desperation of the finest of Russian vaudevilles, but shades of Sir Alex Ferguson and Mourinho, both of whom reveled in such media manipulation.
After errors in tactical approach, defensive make-up and an absence of the basics of knock-out European football, Pellegrini was almost forced to go hard in order to distract from the more pressing issues regarding his team's European progression. Job done.