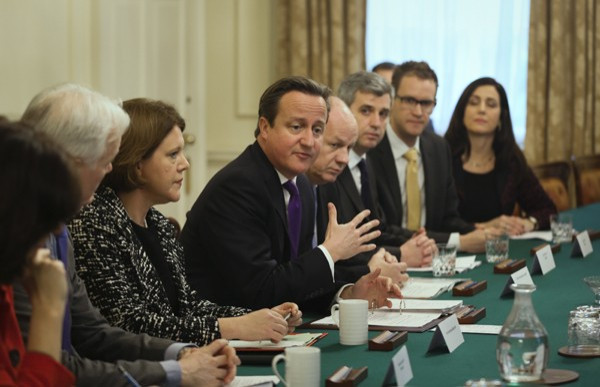 Beleaguered minister Maria Miller is still culture secretary. And prime minister David Cameron is still offering her his full support. And the question on everyone's lips is: "Why?"
Miller's behaviour over her expenses, and possible non-payment of capital gains tax on one of her designated homes, may have been within parliament's rules but few truly believe they pass the "smell" test Cameron himself set as the bottom-line for such affairs.
His other suggestion that, if it looked bad on the front page of the Daily Mail then it probably was bad, appears to have been abandoned. And despite growing demands for her sacking from senior Tories, including former minister and party chairman Lord Tebbit, opposition parties and voters, Miller is safe, for now.
Whether she will still be safe by tomorrow, or the end of the week must, however, remain an open question. There were some signs that ministerial support for her was thin after the attorney general Dominic Grieve's coded message that her position was a "matter for her".
Either way, the chances of her escaping the axe, or demotion in Cameron's expected summer re-shuffle appear zero, assuming she lasts that long.
But why is it that all the previous, post-expenses scandal, pre-general election talk appears to have evaporated like mist under the sunlight of reality?
And why is it Cameron appears not to recognise the simple fact that, as is always the case with these drawn-out affairs, it is his judgement as much as the minister's behaviour that is now in question?
Loyalty is an admirable trait, but it is politically fatal if it strays into blind obstinacy.
The first part of the answer to all this is that the prime minister does not feel comfortable with the way the Andrew "Plebgate" Mitchell affair unfolded and the way he handled it.
Like Miller, Mitchell originally won the prime minister's full support. But the damaging headlines continued, there was also the inevitable drip drip of claim and counter claim leading to intense media and political pressure. And, in the end, prime ministerial support was withdrawn.
It is said that Cameron now deeply regrets his behaviour and is determined not to repeat it.
Equally, the PM is in no mood to bow to what he sees as a politically-inspired campaign by the media to secure the head of the woman charged with overseeing the results of the Leveson inquiry into press standards.
So, for the moment, Cameron is more than happy to encourage an alternative story about reform to the parliamentary standards bodies if it distracts attention away from Miller's behaviour while also ensuring all other parties get dragged into the issue.
The other factor working in his favour is that Labour is reluctant to get too deeply involved in the affair because it suffered the most from the original expenses scandal with no fewer than five MPs being jailed.
Meanwhile, the standing of MPs with voters will be plummeting yet further, if that is possible, and Ukip's Nigel Farage will be delighted that he has further ammunition to fire at the "political establishment" he is determined to overthrow.