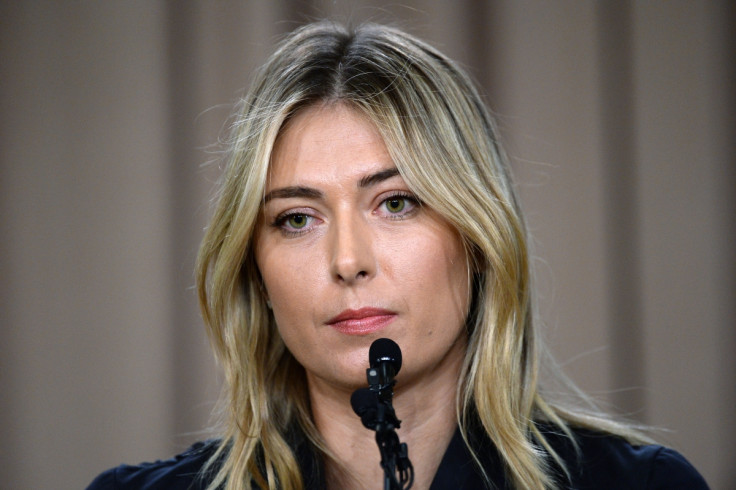 Maria Sharapova will bid to escape a ban from tennis when her team presents her case to the International Tennis Federation. The former world number one will be provisionally suspended from 12 March while the ITF deals with the episode but could face a four-year ban for a first-time offence.
Sharapova announced on Monday (7 March) she had failed a test for meldonium, a drug she claims to have taken for 10 years to treat an unspecified health problem, following her Australian Open quarter-final defeat to Serena Williams in January. The World Anti-Doping Agency added the substance to their banned list for 2016 but the Russian says she was unaware of the new rule.
From the start of 2015, Wada increased the minimum ban for a first-time drugs offence to four years and Sharapova's team must convince the ITF that her medical condition did justify taking a drug which was identified as having performance-enhancing properties last year. Wada president Craig Reedie says the use of meldonium should carry a 12-month penalty but Sharapova's attorney will push for a reduced sentence.
"When someone intentionally takes banned substance for performance-enhancing purposes, there is a four-year ban," attorney John Haggerty told ESPN. "If it is not done intentionally, the top-end of the ban is two years. If there are mitigating circumstances -- as I strongly believe there are here -- there can be an even greater reduction, including eliminating sanctions.
"She is very organised, and she takes her career very seriously, which is why when she first started to take this back in 2006, she made sure it was approved, that it wasn't on the banned list and checked in future years. It was just an honest mistake. We're not making excuses, but because she had taken it for so many years and it was OK year after year, it just fell off the radar.
"It does appear that some athletes have used it in some circumstances in bigger dosages to gain some competitive advantage. Maria was taking a dosage that was significantly lower. [She was] shocked, completely stunned. She takes great pride in her integrity and the way she has approached the game all these years. She was surprised but immediately wanted to come forward and take full responsibility and acknowledge what happened."
Sharapova, who according to Forbes is the highest-earning sportswoman in the world having earned £20.72m ($29.5m) in 2015, has already been dropped by a string of sponsors including Nike, Tag Heuer and Porsche following her public admission. The 29-year-old faces an uphill battle to repair her reputation but Jacques de Cock from the London School of Marketing says she may yet retain her marketing appeal.
"It is very likely, whatever happens in relation to the International Tennis Federation sanctions, that Sharapova will not regain her historic earning powers," he said. "I do not believe she would have made such a full admission of guilt if she knew the ITF was not going to ban her for some time, possibly years.
"However, I do not think that this is the complete end to Sharapova's career, she is too marketable and media friendly. Her infringement too excusable to have a complete career collapse but it is almost certain that she will have to re-invent herself, probably as a tennis commentator."