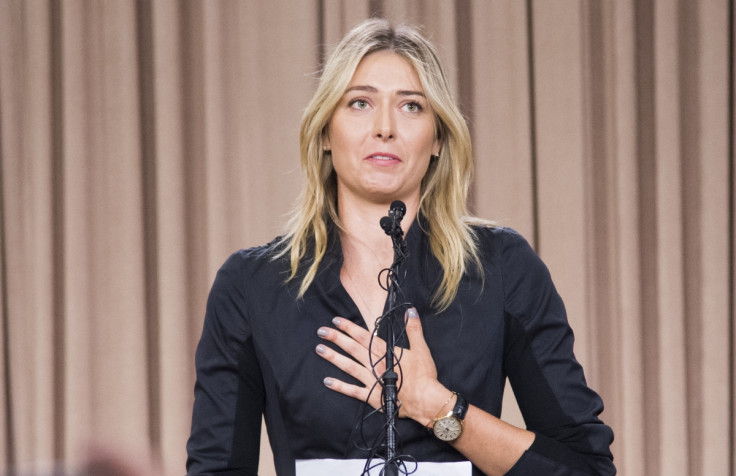 Maria Sharapova is facing a four-year ban from tennis after admitting to taking a banned substance at the Australian Open. The five-time Grand Slam winner has admitted to taking meldonium, a substance which was only included on the World Anti-Doping Association's (Wada) banned list at the beginning of the year.
The International Tennis Federation confirmed her provisional suspension as of 12 March, but lengthy ban from the sport looms over her.
A two year-ban?
Wada guidelines state offenders face a ban of up to four years. However, if Sharapova can demonstrate to the authorities she was not taking the substance to enhance her performance her ban could range from a reprimand to a two-year sanction. Sharapova has already claimed she has taken the substance since 2006 to treat a magnesium deficiency, diabetes and a congenital heart problem.
Jeff Tarango, Sharapova's former coach, believes the Russian will avoid the heaviest sanctions. "I think it immediately falls under two years, but, with these circumstances, probably one year," he told BBC Radio 5 Live.
Therapeutic Use Exemption
Sharapova could apply for a therapeutic use exemption (TUE). A TUE is a request to use a banned substance on medical grounds. Her appeal will be a retroactive one, having already admitted taking the substance, which can be granted approval if:
Emergency treatment or treatment of an acute medical condition was necessary; or

Due to other exceptional circumstances, there was insufficient time or opportunity for the athlete to submit, or for the TUE to consider, an application for the TUE prior to sample collection; or

It is agreed, by Wada and by the Anti-Doping Organization to whom the application for a retroactive TUE is or would be made, that fairness requires the grant of a retroactive TUE.
Realistic outcome
Wada president Craig Reedie told Press Association that athletes found guilty of using meldonium are likely to face a one-year ban.
Michele Verroken, former head of UK Anti-Doping, added: "This is a substance that is considered in the more serious category. It is not something that is just obtainable over the counter or may have no possible intent to improve performance because it can have a performance-enhancing benefit," she told Sky Sports News.
"Really, it is all a matter of what happens to the defence put forward at a hearing. An athlete is provisionally suspended and there will then be an opportunity for a hearing at which that defence can be put forward. The sanction that could be put under consideration is possibly four years, but perhaps if you can persuade a panel you had no intention to improve performance and that you had a previous medical history involving the particular substance than maybe down to two or one year."