'I'll Twist His Ears': AC Milan President Furious After Mario Balotelli Caught Smoking in Train Toilet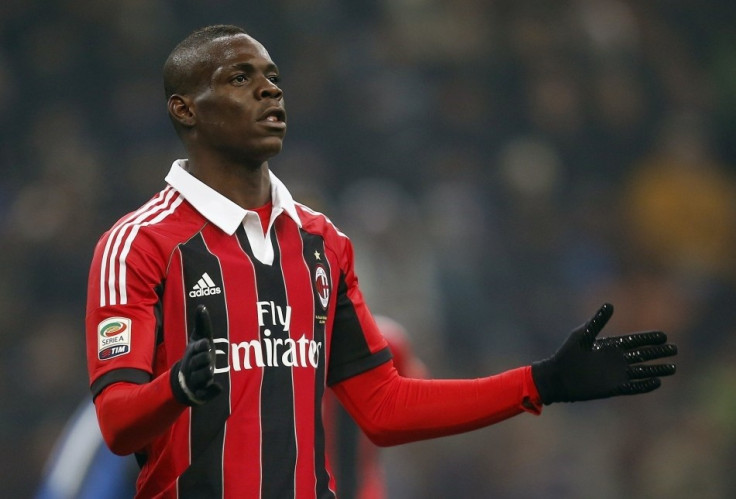 Former Manchester City striker Mario Balotelli has been caught smoking in a train toilet, the latest bizarre episode in the young star's colourful career.
Balotelli, who moved from City to AC Milan in January, was caught by the train conductor while travelling with his team in Florence.
Milan director Adriano Galliani reacted furiously to the news, promising to fine Balotelli for the incident - and threatening a rather more physical punishment.
"I have to twist the ears of Balotelli" Galliani said, while ordering the striker's young teammate and friend M'Baye Niang to help him.
"Niang, you are a good boy, tell your friend he is going to be fined."
Smoking is banned on all trains throughout Italy.
Farcical career
Balotelli's career has been chequered by farcical escapades ever since he began his career with Lumezzane seven years ago.
His previous antics include breaking into a women's prison, visiting a Manchester school to help a child who was being bullied, and setting fire to his house after letting off rockets in his bathroom.
After scoring against Manchester United during City's 6-1 derby victory in 2011, Balotelli revealed a t-shirt bearing the question 'Why Always Me?', one of the most famous sporting slogans of recent times.
Although he struggled at City during the first part of the 2012-13 season, Balotelli has thrived since moving to Milan, having scored seven goals in his first six games for the club.
© Copyright IBTimes 2023. All rights reserved.