South African wicketkeeper Mark Boucher has announced his retirement from international cricket after having undergone eye surgery after being struck by a bail during a tour match against Somerset at Taunton on Monday
The 35 year old was forced to leave the field after being struck by a bail, following a googly from Imran Tahir, which left blood pouring from his left eye.
Boucher has since had surgery to repair the damage to his eyeball and will return to South Africa when passed fit to travel, but having already announced the tour of England would be his last in international cricket, the injury brings a sour end to the career of one of the sports' modern-day greats.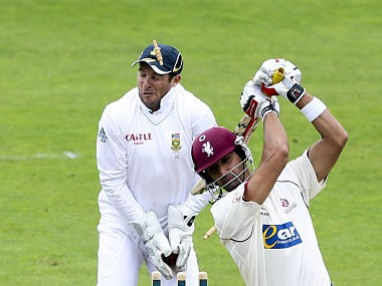 "It is with sadness, and in some pain, that I make this announcement. Due to the severity of my eye injury, I will not be able to play International cricket again," Boucher said.
"I had prepared for this UK tour as well, if not better than I have prepared for any tour in my career. I had never anticipated announcing my retirement now, but circumstances have dictated differently. I have a number of thank you's to make to people who have made significant contributions during my International career, which I will do in due course.
"For now I would like to thank the huge number of people, many of whom are strangers, for their heartfelt support during the past 24 hours. I am deeply touched by all the well wishes. I wish the team well in the UK, as I head home and onto a road of uncertain recovery."
Boucher has been the mainstay of South Africa's side in all three forms of the game across three separate decades, having made in excess of 400 appearances for the Proteas and claimed 999 international dismissals, with 532 coming in tests; the highest by any keeper in the longer form of the game.
Along with Australian Adam Gilchrist, Boucher has pioneered the role of the wicketkeeper-batman, with an average of 30 in tests, and a strike-rate in Twenty20 cricket of close to 100.
Captain Graeme Smith, who has played with Boucher for much of his 14-year international career said: Bouch, we have walked a long road together, and we are saddened to part under these circumstances. For the 14 years of your International career, you have been a true Proteas warrior, a patriotic South African, a fighter who asks nothing and gives everything.
"You have been a 100 percenter for this team. You have been more than a performer, you have been a motivator, an inspirer, an energizer... and a good friend to many. You leave us today with sad hearts, but also with a deep gratitude for your contributions to our team, and to us as people.
"The fighting spirit you brought to team remains with us. We wish you a good as possible recovery from your injury. As we bid you a farewell as an International cricketer and wish you well for your future, we keep you as a friend and respected Proteas warrior."
South Africa Team Manager Dr Mohammed Moosajee said of the incident to ESPN Cricinfo: "The extent of the eye injury can be described as severe. The eyeball (globe of the eye) was repaired during the operation.
"The long-term prognosis at this stage remains unknown. He is definitely out of the series and will return home as soon as able to travel. The selectors will announce a replacement shortly."
His absence from the tour and his subsequent retirement casts a shadow over the four-test match series between the top two ranked sides in world cricket, the five scheduled one-day internationals, and three Twenty20 games at the end of the cricketing summer.
South Africa A wicket keeper Thami Tsolekile, who last played for the South Africa test side in three matches in 2004, one of which came against England, was expected to replace Boucher in the touring squad, but instead batsman AB de Villiers will keep wicket during the test series which starts next Thursday.