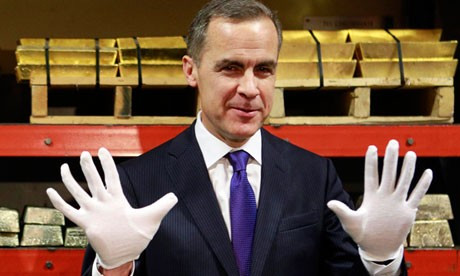 Sir Mervyn King's abdication from the Bank of England throne sees the coronation of his successor Mark Carney, who will adorn the monetary policy crown starting from 1 July.
King has been more dovish than Noah's favourite bird, but will Carney loosen his wings and follow suit?
IBTimes UK looks at what Mark Carney might mean for monetary policy in the UK.
Quantitative Easing (QE)
Under King's watch, the Bank of England ploughed £375bn into its quantitative easing programme, the Asset Purchase Facility, which gobbles up gilts to improve liquidity in the markets, drive investors to higher-yielding riskier assets and frees up capital on balance sheets tied up in UK sovereign debt.
Will Carney, who is equally bearish, pump more into QE? Or will he ride the small wave of slowly improving data from the UK economy?
BNP Paribas said it thinks Carney may put an extra £100bn in and the man himself has hinted that it is not the end for QE in the UK.
"There remains considerable flexibility, which includes the use of communications, which includes the use of unconventional measures," he said in January.
Any extra acceleration on the QE pedal will need approval from a majority of his eight policymaker underlings who also sit on the Monetary Policy Committee.
Interest Rates
The base rate has been held at its record low of 0.5% for coming on for four years now, but Carney warned that business and investors must prepare "without question" for the "possibility of slight rises or material changes in the level of interest rates".
However, he gave no indication of even a vague timescale for rates to rises.
At the Bank of Canada, Carney was among the first central bankers to drastically cut interest rates at the outbreak of the financial crisis.
Forward Guidance
Carney is a fan of forward guidance - letting markets know a rough timetable of when certain policy, such as interest rates, will change - so within his first months he may well start to give signals in the first few weeks of his reign.
Though the US Federal Reserve Chairman Ben Bernanke's words on slowing its own stimulus programme by the end of the year wobbled markets and sent the US government's borrowing costs up, which will play on Carney's mind.
Amit Kara, UBS economist, has warned that forward guidance by Carney would be a bad idea.
"This is an economy that simply hasn't followed any textbook. Making a commitment on an economy that has been so difficult to forecast, that doesn't behave itself, risks credibility - and the last thing a central bank should do is have people question its credibility," said Kara.
Credit easing
Carney has already said that unconventional policy is needed to steer economies through this unprecedented global financial storm.
He praised one such Bank of England policy in a written submission to parliament's Treasury committee.
"The Funding for Lending Scheme (FLS) seems to be well-designed to provide incentives for banks to lend more than they had planned," wrote Carney.
FLS offers banks cheap loans tied to the value of their stock lending to the real economy of small firms and consumers. As the amount a bank lends to the real economy goes up, so does the total in cheap loans they can access.
To encourage more lending to small businesses, which has tumbled in recent months, Chancellor George Osborne extended FLS to increase the financial incentives.
"It will take time for the effects to be seen clearly, but ... it should not be judged solely on the amount borrowed by banks," said Carney.
"The availability of the Scheme has helped to drive down bank funding costs, which since last autumn have fallen by more in the UK than in many other countries."
This suggests Carney would look at a further extension of FLS if he deems it a success, or a new, radical credit easing policy - in line with his penchant for the unconventional - if he thinks it is not working.
Related articles:
Dangerously High Expectations for New Bank of England Governor Mark Carney
Mark Carney BoE Governor: From Banking to Public Office over the Last Decade [SLIDESHOW]
BBA's Simon Hills: Mark Carney Should Stop BoE's Gilt Purchases