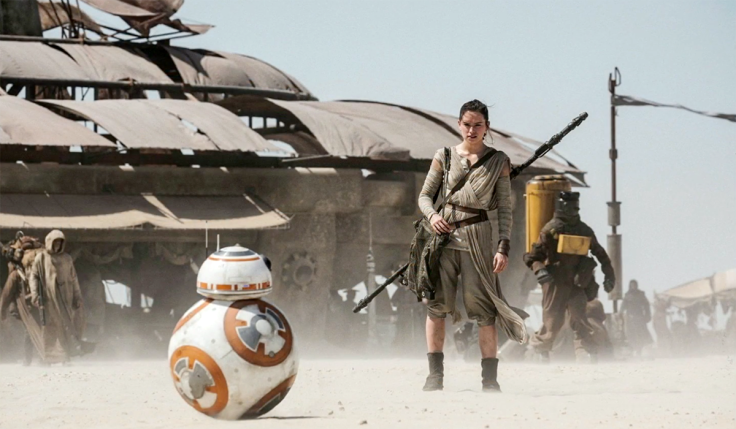 Daisy Ridley celebrated her 24th birthday on 10 April, a day after winning the MTV Movie Award for the best breakthrough performance for her role in Star Wars: The Force Awakens. Among her co-stars and friends who posted birthday wishes to her, one of our favourite messages came from Luke Skywalker himself.
Mark Hamill, the actor who plays the son of Darth Vader, posted a photo of himself with Ridley at the Pinewood sets where they were shooting for the Star Wars: Episode VIII. The adorable photo shows the young actress, who plays Rey in the movie's sequel trilogy, giving the 64-year-old actor a piggyback ride. Hamill is seen pointing to some spot in the distance, while Ridley looks on, a small smile on her face.
The actor posted the image on Twitter along with a message to the birthday girl that read: "A long time ago (last week I think) In a galaxy far, far way (@PinewoodStudios) THIS happened. Happy Birthday Daisy!"
The pose reminds us a lot of the one from Star Wars: The Empire Strikes Back when Luke carried Yoda on his back during Jedi training.
Principal photography has already begun for Episode VIII of the space action drama, which will continue from where The Force Awakens left off — Rey finally meeting Skywalker (Hamill).
Now that she has met a Jedi master, will Rey learn to harness the Force as well? While referring to the next film as "darker", Ridley left us hanging with "I don't know if I am a Jedi... I don't think I am."
Star Wars: Rogue One's trailer was released last week and fans have already found similarities between lead character Jyn Erso, played by Felicity Jones, and Ridley, with many surmising that Erso might be Rey's mother. Ridley was quick to respond to the rumours. "I'm not being funny you guys, but just because she's white and got brown hair... doesn't mean she's my mom," she joked, before adding "Maybe she is. Oooooh!"
Rogue One: A Star Wars Story is set to release on 16 December 2016, followed by Star Wars: Episode VIII on 15 December 2017.