Mark Lawrenson believes that Liverpool manager Brendan Rodgers has been testing Jordan Henderson, Stewart Downing and Jose Enrique, with the trio all putting in top-class efforts to prove why they should stay at Merseyside beyond the January transfer window.
All three were underperforming at the start of the season, and Rodgers publicly spoke about the possibility of some players being sold in January if they were not seen to be pulling their weight when given the opportunity.
In particular he suggested that Downing didn't have a future at Liverpool, which the left back has responded to with some stellar performances over the Christmas period, and Lawrenson believes that the mind games from Rodgers assisted the players in becoming more motivated.
"Personally, I think Rodgers has been testing Downing, along with Jordan Henderson and Jose Enrique," he said in the Liverpool Daily Post. "He was honest in saying he didn't think they'd been showing enough, and they have both upped their game. That's what you want as a manager.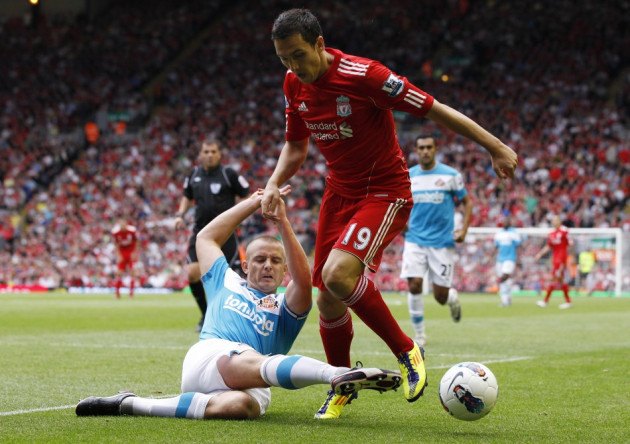 The former Red also added: "Players might now be thinking they might not get straight back into the team, a competition for places Rodgers has always wanted."
Downing had admitted that he was frustrated by Rodgers' public comments over his commitment to the club, saying he wished they'd stayed private.
But those comments seemed to have given the England international the push he needed to start to justify his sky high transfer fee, and show that he has a chance of staying at Liverpool for the long term.
"Telling Downing he could look for another club and then consistently playing the winger was either a great piece of management or a great piece of luck," he explained.
"Or perhaps the penny has simply dropped with Downing that he is probably not going to leave to a better club.
"It might just be the kick up the backside he needed. Now that he is under serious pressure, Downing has started to perform.
"You are left asking the question of why he hasn't played like this since he first joined Liverpool. It has been an awful long time coming."
Liverpool were left disappointed after losing 3-1 to Stoke on Boxing Day, and the side will be relying heavily on the likes of Downing, Henderson and Enrique to come through when they play QPR in the turn of the year.