Frustrated by the negative coverage of his administration's response to Hurricane Maria, US President Donald Trump tweeted: "FEMA & First Responders are doing a GREAT job in Puerto Rico." He also took issue with media coverage of the administration's response, writing: "Wish press would treat fairly!"
However, people on the island say help is scarce and disorganised while food supplies are scarce in some remote towns. The US territory of 3.4 million people has struggled through nine days with virtually no electricity, patchy communications and shortages of fuel, clean water and other essentials in the wake of Hurricane Maria, the most powerful storm to hit the island in nearly 90 years.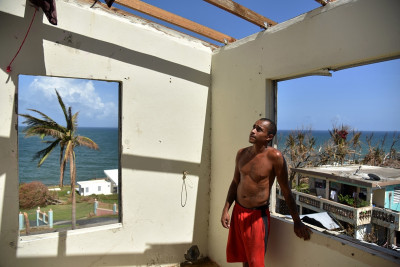 Democratic US Senator Richard Blumenthal of Connecticut said the crisis was shifting from a natural disaster to a man-made one. The government's response had been "shamefully slow and undersized and should be vastly upgraded and increased," he told the Senate.
Many residents in Puerto Rico voiced frustration at the pace of relief efforts. "It's chaos, total chaos," said Radamez Montañez, a building administrator from Carolina, east of capital city San Juan, who has been without water and electricity at home since Hurricane Irma grazed the island two weeks before Maria.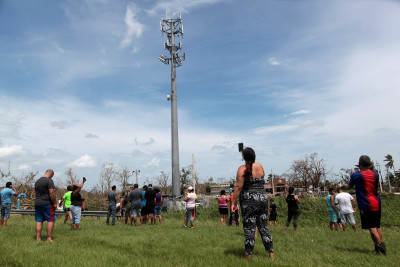 "I have not received any help, and we ran out of food yesterday," said Mari Olivo, a 27-year-old homemaker whose husband was pushing a shopping cart with empty plastic gallon jugs while their two children, 9 and 7, each toted a large bucket. They stood in line in a parking lot in the town of Bayamon near the hard-hit northern coast, where local police used hoses to fill up containers from a city water truck. "I have not seen any federal help around here," said Javier San Miguel, a 51-year-old accountant.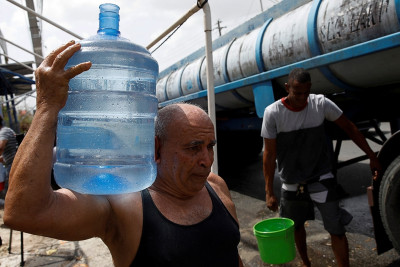 In the town of San Lorenzo, about 40 miles west of the capital, people walked through calf-high water to get supplies because the bridge over the Manati river outside town was washed away in the storm. Residents collect spring water to drink and taking turns cooking food for each other because residents are running low on basic supplies. "Just like God helps us, we help each other," said resident Noemi Santiago, weeping. "Here one person makes food one day, another makes it the other day, so that the food that we have goes further."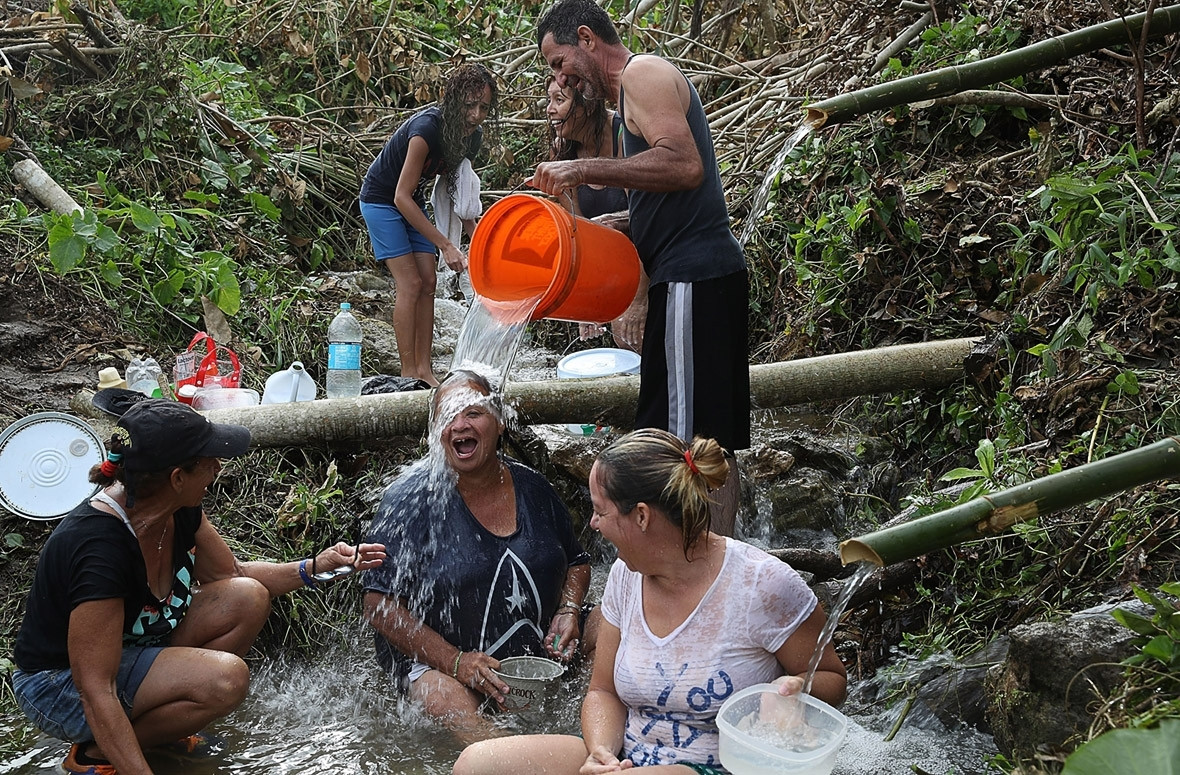 In one sign of the prevailing sense of desperation, thousands lined up at San Juan harbour to board a cruise ship bound for Florida in what was believed to be the largest mass evacuation since Maria struck the island. The humanitarian mission, offered free of charge, was arranged between Royal Caribbean International and Puerto Rican authorities on a largely ad-hoc, first-come basis that sought to give some priority to those facing special hardships.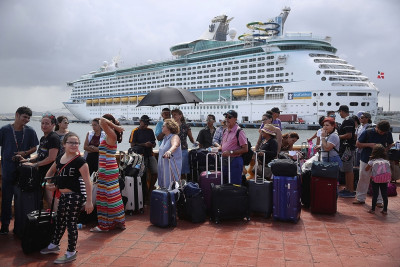 President Donald Trump has cleared the way for more supplies to head to Puerto Rico by issuing a 10-day waiver of federal restrictions on foreign ships delivering cargo to the island.
House Speaker Paul Ryan said the Federal Emergency Management Agency's (FEMA) disaster relief account would get a $6.7 billion (about £5bn) boost.
While these measures might help speed cargo shipments, Puerto Rico is struggling to move supplies around the island once they arrive. The Department of Homeland Security's acting administrator of the region that includes Puerto Rico said distribution had been hampered by the destruction of roads and bridges, which makes it hard to get supplies to those in need.
Trump and his advisers defended the administration's response to the hurricane, which destroyed much of the island's infrastructure and left many residents desperate for fresh water, power, food and other supplies.
"The electric power grid in Puerto Rico is totally shot. Large numbers of generators are now on Island. Food and water on site," Trump tweeted. FEMA has already placed the US Army Corps of Engineers in charge of rebuilding the island's crippled power grid, which has posed one of the island's biggest challenges after the storm.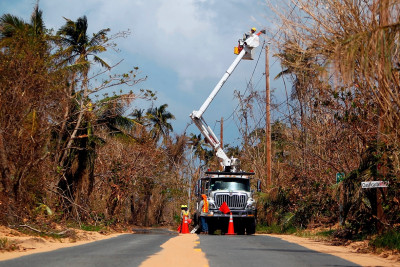 FEMA officials said that a million meals and two million litres of fresh water had been distributed in Puerto Rico and two million more meals and two million more litres of water were on the way. There were conflicting figures: A day earlier, FEMA said it had distributed 167,000 meals and 539,000 bottles of water.
Presidential spokeswoman Sarah Huckabee Sanders said 10,000 government workers, including more than 7,000 troops, were helping Puerto Rico recover. The US military has now sent a three-star general – Lt Gen Jeff Buchanan, commander of US Army North – to assess the situation so that the military can provide the highest possible level of support, Northern Command spokesman John Cornelio said.
However, Jose Enrique Melendez, a member of Governor Ricardo Rossello's New Progressive Party, said: "The federal response has been a disaster." He said the Trump administration had focused more on making a good impression on members of the media gathered at San Juan's convention centre than bringing aid to rural Puerto Rico. "There are people literally just modelling their uniforms," Melendez said. "People are suffering outside."
The hurricane devastated agriculture, a small bright spot of economic growth in a US territory mired in a decade-long recession and crushing debt.
Noel Lopez, 40, operates 10 dairy farms with his father and brother. Before the storm they were milking 12,000 cows, producing 22,000 gallons (85,000 liters) of milk a day. Maria destroyed 90 percent of the barns and as many as 700 cows are missing or dead, each one valued at $2,500. Without electricity, Lopez spent days after the storm focusing on finding enough diesel fuel to keep generators running so the cows could be milked and the milk could be kept cool. Failure to milk the cows could lead to an infection that could kill them and the milk can spoil within days without refrigeration.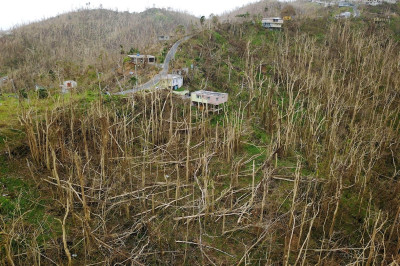 Jayson Harper, a professor of agricultural economics at Penn State University, spent three months in Puerto Rico in 2014 and said the hurricane has destroyed the high value crops that farmers produce, some which take years to replace. The losses are different from crops in the Midwest, where a tornado could take out a field of corn. It's a major loss but the farmer can replant the next year. Coffee trees, when destroyed by wind, take several years to mature enough to produce beans again. "It's a very large investment and it's just a different kind of situation," Harper said.