While David Moyes will have been delighted to see his efforts in the opening weeks of the season rewarded with his ninth manager of the month award, the Everton boss will have been wary of the jinx which often accompanies the prize.
And such fears have taken just 24 hours to come to reality after the news that Marouane Fellaini, The Toffees' inspirational midfielder, will miss the next three weeks of the season, which includes the Merseyside derby against Liverpool at Goodison Park.
Fellaini has been a power of strength for Everton this season, scoring in the wins over Manchester United, Aston Villa and Swansea City as the club have enjoyed an uncharacteristically impressive starts to a campaign which sees them fourth after seven games.
The loss of the attacking linchpin could however be decisive for an Everton side who are devoid of the riches of their rivals and more importantly, without a player who can replicate the 24 year old's strength and guile on the ball.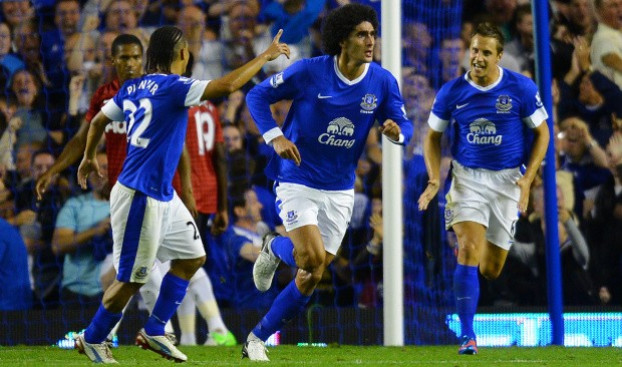 ''Fellaini suffered a small tear at the juncture of muscle and tendon in the knee," a statement from the Belgian FA said. "The injury was revealed during a scan.
''Fellaini was injured last Saturday during the match between his club Everton and Wigan Athletic. He will be out three weeks. It has been agreed with his club Everton FC he will rehabilitate in Belgium during this period.''
The former Standard Liege man will miss the Merseyside derby at the end of October, the first meeting between Everton and Liverpool since the publishing of the Hillsborough report which exonerated blame of the football supporters and exposed the indecision and subsequent cover ups from South Yorkshire Police.
Having finished above Liverpool in the Premier League last season, Everton boss David Moyes is hoping to again trump their nearest rivals and qualify for the Europa League this term.
Reds captain Steven Gerrard says the club are unlikely to qualify for the Champions League this term, and with Tottenham Hotspur likely to pose a genuine threat for a top four spot, the pair are set to battle it out for the remaining European place.
"With the quality of the Premier League it is really hard to qualify for the Champions League but I wouldn't say we can't do it," Moyes said.
"If we fall short and end up in the Europa League then so be it, but in recent years we have been pretty close, finishing sixth, seventh or eighth, so we want to do that at the very least.
"But I am really pleased and with all these awards it comes as a team thing. It is something the whole team has strived to achieve."