Sir Alex Ferguson's position as Manchester United manager would have been in jeopardy had the club not won the FA Cup in 1990, former chairman Martin Edwards has revealed.
After Ferguson was appointed to replace Ron Atkinson in 1986, United made steady progress towards English football's summit, but had failed to add a piece of silverware during his early reign.
But Edwards, who denied that Ferguson would have been sacked had he lost to Nottingham Forest in the FA Cup, says his future would have been up for debate had he not won that same competition later that season after defeating Crystal Palace in the final.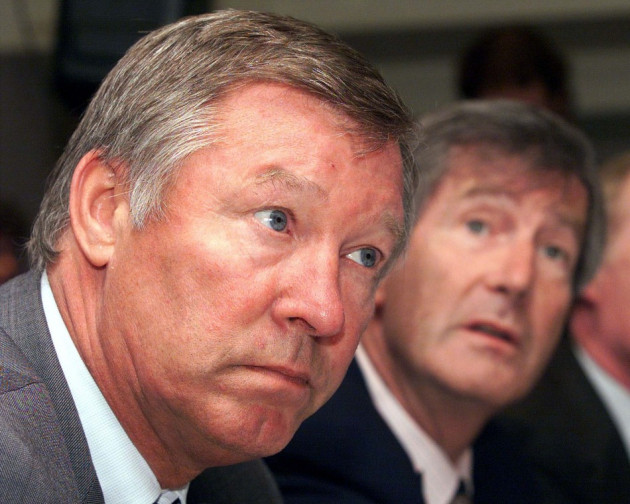 "I had actually approached him that week and told him that whether we win or lose at Forest in the cup, you are not losing your job on that one result," Edwards said. "We had that conversation during the week, so that certainly wasn't the case.
"If it had gone on for another season or whatever without any success at all, the pressure would have been there to do something. Fortunately, he did turn it around."
Ferguson claimed the treasured league title in the 1992/93 season, the first year of the Premier League and since, 11 more league championships have followed for United as well as two European Cups.
Edwards says Ferguson's subsequent success despite a rocky first few years at Old Trafford, is testament to the faith United put in him to turn the club's fortunes around.
"There was a lot of pressure there to make a change. People were saying he had come in from Scotland, was he the right man to manage a big club in England, so we had all this outside pressure.
"But we knew how hard he was working behind the scenes, how hard he was working on the youth setup. We had to give that time and winning the cup that year was the saviour. We then won the Cup Winners' Cup in '91, the League Cup in '92, the title in '93, the Double in '94 and so it went on.
"Once he got that league success and followed it up with the Double in '94 and '96 and the Treble in '99, he got that respect. The older he has got, the more respect he has gained and the easier it has become for him. He is like Matt Busby was in his day, part of the fabric, part of the history of Manchester United. Success breeds success."
"When you think about it, he came in in late 1986 and we didn't win the league until 1993, so we gave him six or seven seasons to win that league," he added. "It is important that you give managers time to build and look at how we have benefitted from that decision. It has been tremendous.
"If you had said to me when we appointed him that we would win 12, hopefully 13, Premier Leagues within 26 or 27 years, you would never have believed it. It seems quite impossible, but he has done it."