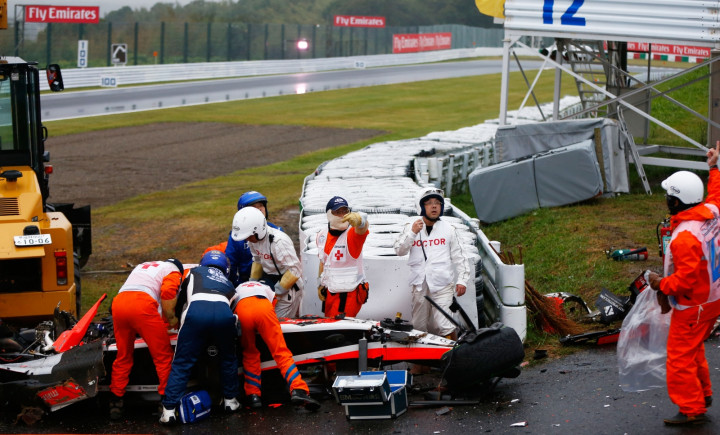 Jules Bianchi's F1 team has angrily denied reports he was ordered to speed up despite race restrictions, before his devastating crash at the Japan Grand Prix.
Marussia hit out at reports the pit lane crew told Bianchi to increase his speed when yellow flags were waving during the race, earlier this month.
Bianchi remains in a critical condition in hospital with catastrophic head injuries, fighting for his life. Marussia said "isolated reports" of the claim were "deeply upsetting".
Dismissing the claim as "entirely false," the team said: "Jules did slow down under the double waved yellow flags That is an irrefutable fact, as proven by the telemetry data, which the team has provided to the FIA.
"It is quite clear from the transmission and the transcript that at no point during the period leading up to Jules' accident did the team urge Jules to drive faster, or make any comments suggesting that he should do so."
The team said their version of events was backed up by race director Charlie Whiting, who studied the data submitted by Marussia.
Being forced to respond to the "inaccuracies" was "distressing," said the team.
"However, given that these allegations are entirely false, the team has no alternative but to address these," the statement said.
"The team sincerely hopes that, having clarified these facts, it can now avoid any further distractions to its primary focus at this time, which is providing support for Jules and his family."
Bianchi is one of the dangerous sport's rising stars. His family have gathered at his hospital bedside. His father Philippe has called it "a miracle" Bianchi was not killed in the crash, when he slid under a tractor which was removing another car at the time.