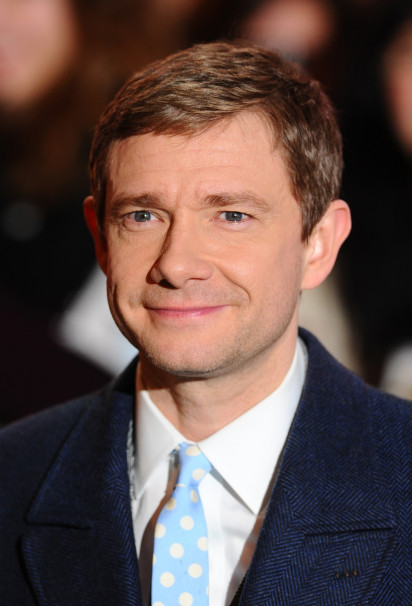 Martin Freeman will have a role in Captain America: Civil War, Marvel has confirmed.
Producer Kevin Feige, who has been involved in almost every superhero movie generated by Marvel in the last decade, voiced his excitement about working with The Hobbit star: "From his roles as Bilbo Baggins and Doctor Watson to Tim in The Office, Martin's range from the dramatic to the comedic has consistently impressed us."
"We couldn't be more honoured or excited to have such a talented actor join the Marvel Cinematic Universe."
The award-winning actor has most recently received accolades for his roles in Sherlock and Fargo.
Freeman will join franchise-regulars Chris Evans, Robert Downey Jr, Jeremy Renner and Scarlett Johansson in Civil War, as well as Anthony Mackie and Elizabeth Olsen. Captain America 3 is also introducing Chadwick Boseman as Black Panther and Daniel Brühl as supervillain Baron Zemo.
In true Marvel style, Freeman's role in the film has not yet been revealed and rumours are already starting to circulate as to what part Freeman could be playing in the third film based solely around the character of Steve Rogers.
Because of the character's involvement in the Civil War comic books and the hype surrounding who will play him after Andrew Garfield's departure, there has been a lot of speculation that the Sherlock actor may be playing a more mature Spiderman.
Marvel has not had the freedom to explore Stan Lee's web-slinger on the silver screen since it sold his storyline rights to Sony in 1999 when it was going through some financial difficulties, but due to its huge success in the last few years, the two powerhouse companies agreed that Spiderman could appear in certain titles Marvel was planning as long as Sony could continue making solo movies for the lycra-wearing superhero.
Captain America: Civil War won't be released in cinemas until 6 May 2016, but is said to begin filming in the very near future. The film will be the first instalment to kick off MCU's Phase Three of the long-scheduled upcoming releases.
Other titles that will feature in the third phase will include Doctor Strange, starring Benedict Cumberbatch, Guardians of the Galaxy 2 and Avengers: Infinity War Part 1.