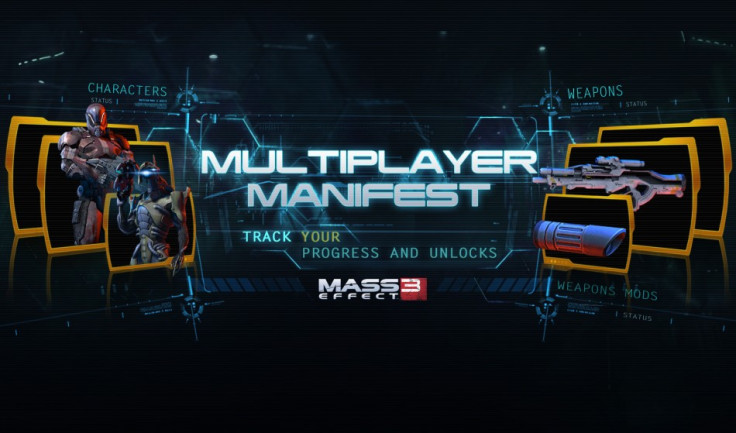 Games developer BioWare is adding to the BioWare Social Network (BSN) with the launch of Multiplayer Manifest, which aims to take "Mass Effect 3" (ME3) to a whole new level.
The ME3 Multiplayer Manifest allows players to browse multiplayer avatars without having to actually run the game every time. The manifest allows the gamer to view all characters, weapons, mods and consumables that he/she has unlocked over the course of multiplayer events and compare stats with friends.
The developers will be hoping this special multiplayer service will help retain their competitive edge in the online multiplayer space, given major First Person Shooters (FPS) franchises like "Call of Duty's Elite" and "Battlefield Battlelog" have been offering game enhancing social services for quite some time.
Gamers looking to access this manifest need to log-in to the BSN with their EA Origin account (the same used to play online). Once inside the network , the programme will allow the gamer to keep track of new features available.
In addition, BioWare is reportedly working on bringing new game content, enhancements and mods, to help gamers better connect to the world of Commander Shepard and the world of Mass Effect.
"New features for the manifest are in the works and will be added soon, so be sure to check back in soon!" reads the message on BioWare's official blog.
"With Operation EXORCIST commencing tomorrow, now's the best time to get acquainted with the manifest to find out how best to prepare for battle! You'll be able to see which weapons and mods you have leveled up, and which ones you should secure in preparation for the upcoming offensive," the developer's blog adds.
MUST READ: 'Mass Effect 3: Operation Exorcist' - Multiplayer N7 Bounty Weekend Kicks Off on Friday [SPOILERS & VIDEO]
MUST READ: 'Mass Effect 3': How to Unlock Hijacker Trophy or Hijack an Atlas Mech [VIDEO]