At least 36 bodies have been found in mass graves in a village in Afghanistan after a recent attack allegedly carried out jointly by Taliban and Islamic State (Isis) militants killed scores. The graves were discovered by the police after Afghan forces recaptured the village from the Taliban.
In a rare case of cooperation, militants from both groups were believed to have come together and killed more than 60 civilians, including women and children in an attack on Mirza Olang village of Sar-e-Pul province in Afghanistan on 5 August. The attack took place when the militants managed to overrun the police following a 48-hour-long battle.
Most of the victims were Shia Muslims. As many as 28 victims were found in one grave in the northern Afghan province of Sar-e Pul, while another grave contained eight bodies, provincial government spokesman Zabihullah Amani said on Wednesday (16 August).
"Most of the victims were beheaded," Reuters cited him as saying.
All the victims were men, except for three boys in the age group of eight to 15, he added.
According to Amani, authorities also located a third mass grave, but the area was still believed to be under Taliban control. The security forces are now looking for more possible graves.
The discovery of the graves came after the Afghan National Army's northern military corps announced this week that troops had retaken the village following several days of intense clashes with the militants. At least 50 insurgents are reported to have been killed in gun battles.
During the attack, the Taliban had taken hostage of more than 200 people and freed them only after it reached an agreement with local officials.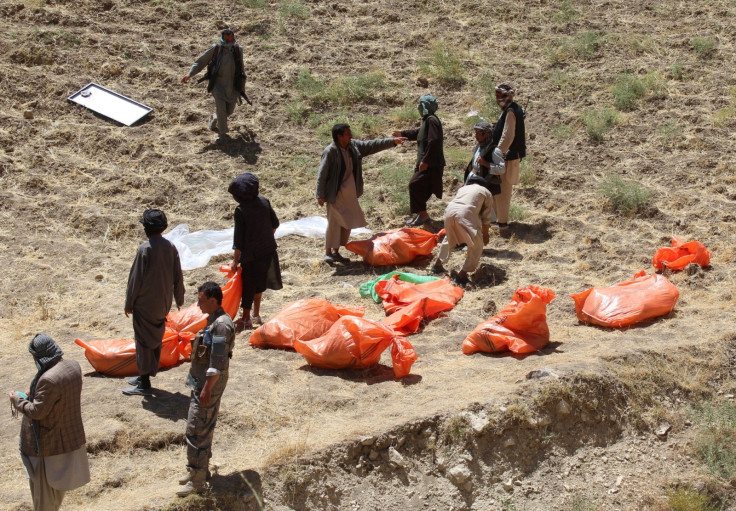 According to the Afghanistan Independent Human Rights Commission, a preliminary investigation also suggested that the Taliban and Isis acted together and carried out the attack.
However, the Taliban denied it and said its militants carried out the attack alone and that it did not kill any civilians.
Earlier this week, the Isis group also claimed responsibility for the attack and said it killed about 54 Shia Muslims.
Villagers who escaped the attack on 5 August told media that they saw fighters from both the groups as some where carrying the white banner of the Taliban and some others were seen with the black banner of the Isis.
Although both are militant groups, the Taliban and Isis are believed to be rivals.