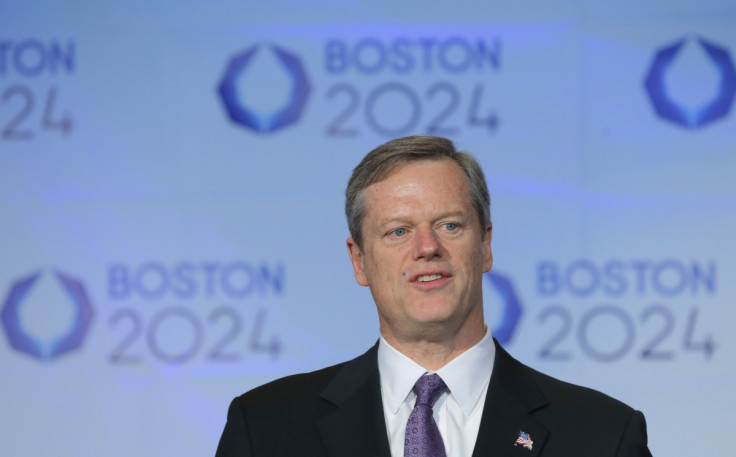 Massachusetts Governor Charlie Baker is saying "no" to accepting Syrian refugees into the state following the deadly terrorist attacks in Paris on 13 November, he announced to reporters on 16 November. Baker is one of several US governors who announced that they would not allow any Syrian refugees to move to their states.
"I would say no as of right now," Baker said during a press conference at a State House event. "No, I'm not interesting in accepting refugees from Syria." He continued, "My view on this is the safety and security of the people of the Commonwealth of Mass. is my highest priority. So I would set the bar very high on this."
According to The Boston Globe, the Republican governor said he wanted to receive more information from federal officials. "I think at this point in time we'd have to be very cautious about accepting folks without knowing a lot more about what the federal government's plan looks like and how it's going to be actually implemented and executed," he said.
Baker appeared to have the support of Boston Mayor Matin J Walsh, who said he too wanted to learn more about the federal government's plan for vetting incoming refugees. "We have to see the vetting process and what's happening with the vetting process," he told the Globe. However, in a statement to reporters, the Democratic mayor seemed to be open to accepting refugees in the future.
"As a city and as a country it is not our custom to turn our backs on people who are in need and who are innocent," Walsh said. "We have yet to receive guidelines from the federal or state government on how they will move forward, however should we be told that Boston is accepting refugees, we will work with our partners at the federal, state and local levels to ensure the safety of Boston residents."
Neighbouring New Hampshire echoed Baker's thoughts and called on the US to halt the acceptance of all Syrian refugees until intelligence and defence officials can promise a strict vetting process, WCVB reported. "Protecting the safety and security of our people is the first responsibility of government," Governor Maggie Hassan's communications director William Kinkle said. "The Governor has always made clear that we must ensure robust refugee screening to protect American citizens."
BuzzFeed News reported that at least 17 state governors have spoken out about accepting Syrian refugees. According to WCVB, however, governors cannot legally block refugees from settling in their states under the Refugee Act of 1980. Earlier in the year, President Barack Obama pledged to accept nearly 10,000 Syrian refugees in the next year.