Newcastle United full-back Massadio Haidara feared for his career after the tackle by Wigan Athletic Callum McManaman which looks set to rule the Frenchman out until the end of the season.
Haidara was rushed to hospital after a knee high tackle from McManaman poleaxed the Toon defender and left him motionless on the ground.
McManaman has since escaped retrospective action from The Football Association after referee Mark Halsey admitted to Newcastle boss Alan Pardew he had missed the incident during regular play.
The 19 year old's prognoses is yet to be confirmed but such was the velocity of the challenge and the extensive treatment he received, Haidara is expected to miss the remainder of Newcastle's season and considers himself lucky that his career hasn't ended prematurely.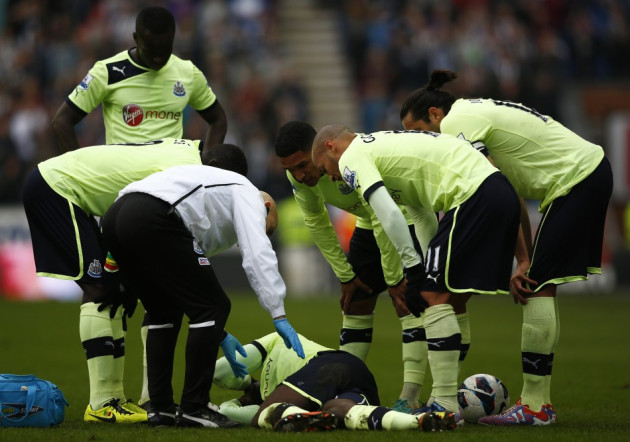 "I don't understand," he said. "His tackle could have ended my career and ruined my life but in the end he will play football before me.
"In that moment I was really, really angry with him. I thought he had stopped my career.
"Now I feel differently and just hope this will give him a lesson and that next time he will know how to stop himself.
"We have to protect the players. I don't want to change the physical mentality, pace and commitment of football in England but we can't tolerate tackles like this."
After McManaman avoided retrospective action, the Professional Footballers' Association chairman Gordon Taylor called for a video review panel to be introduced, while the 68 year old has previously called for action over divers.
McManaman is free to feature in Wigan's relegation run in, as well the FA Cup semi-final against Milwall, while Newcastle's Haidara continues to live with the memory of being cut down in his maiden season in English football.
"I feel the need to be cautious and don't want to go back too fast," added Haïdara.
"I will be apprehensive. It will be normal. I can't let it impede the way I naturally play. I can't dwell on what's happened. I will get back on to my feet. I have to."
"I've not forgotten anything. I can still picture it, frame by frame, in my head. The ball arrived. I controlled it. I thought I would have the time to dribble past him but he arrived like a missile on me.
"Everything was going so quickly. I didn't think he would tackle me, but even less at that height of my knee. Then I felt his studs on my leg - and straight away the terrible pain.
"I really thought my leg was broken. I was in so much pain I couldn't think of anything. I was completely shocked - I still am, to be fair - and I started thinking about my career and everything. I thought I would not play football again or never be back 100 per cent.
"Once you're in the ambulance you start thinking about your family," Haïdara explained. "I knew that my brother was watching the game live so I just imagined what he would feel when he saw the tackle.
"I have to say I've never seen such a tackle in football in my life. I shudder every time I think about it."