A large blaze at a hotel in the Pakistani city of Karachi has led to the death of at least 11 people. According to local news, 75 others were injured in the fire that broke out in a ground-floor kitchen of the Regent Plaza hotel in the early hours of 5 December.
The Dawn newspaper reported that guests at luxury hotel were trapped on the upper floors, unable to exit the structure due to flames. It took local fire brigade three hours to contain the fire and rescue those inside.
The hotel had a number of international tourists staying there, many of whom are said to be from East Asia. Police officer Tauqeer Naeem revealed that a number of Pakistani cricketers from the United Bank Limited (UBL) team were at the hotel and one of them had broken his ankle while trying to escape.
International cricketer Sohaib Maqsood was also at the hotel, but managed to escape unharmed and later helped in rescue efforts to pull out those trapped to safety.
Around 16 crew members of Pakistan International Airlines were also injured in the fire, according to a company spokesperson.
Dr Semi Jamali at Karachi's Jinnah's Hospital confirmed the casualty numbers. "We have received 11 dead bodies and 75 injured," she said and added that some of those being treated for burns, injuries and smoke inhalation were foreigners.
She said that in total, six men, including three doctors and the hotel's front desk manager, and five women were among the deceased.
TV footage showed guests attempting to escape the building by using bed-sheets as make shift ropes and climb down windows. "We tied the bed sheets together to make a rope, and used that to climb down from the fourth floor," said Khalid Mehmood, one of the injured. "We also had to jump mid-way, as the bed sheets weren't long enough."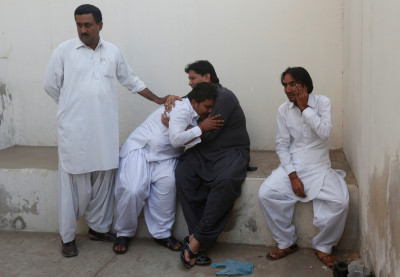 Meanwhile, Karachi Mayor Waseem Akhtar told reporters that authorities were still trying to determine the cause of the fire, but pointed out that the hotel had "no fire exits or fire alarms".
Chief Fire Officer for Karachi Tehseen Siddiqui explained that while the fire itself was contained quickly, the resulting smoke continued to circulate through the air conditioning system. He added that because there was no exhaust to drive out the smoke, "most people suffocated to death".