A massive sinkhole swallowed a bus, carrying about 35 passengers, and a car in Chennai – the capital of Tamil Nadu state in southern India. No one was injured in the incident.
Local officials said the cave-in on Anna Salai road that appeared on Sunday (9 April) afternoon was a result of the ongoing tunneling work for metro rail.
Restoration work began soon after the incident and the traffic on the road is expected to resume by Monday.
Members of Chennai Metro Rail Limited and contractors, who have undertaken the metro construction work in the area, said that the passengers of the bus and the occupants in the car were rescued after authorities were alerted about the sinkhole.
The trapped vehicles were later removed using cranes. Traffic was diverted to carry out restoration and inspection work.
Chennai Metro Rail officials said the sinkhole, which measured 5X10metres and was 2 metres deep, was formed because the soil underneath the road had loose pockets that deflected due to the digging work near the area.
Officials added that they continuously monitor settlement or surface deflections due to the ongoing tunneling work, with the latest such inspection done minutes before the incident.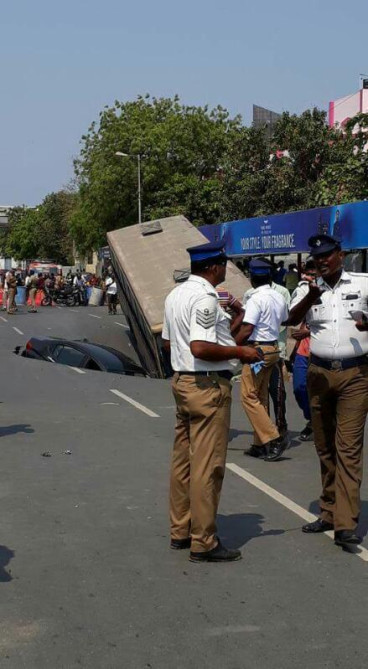 The cave-in appeared around 2:03 pm local (9.33am BST) time, while the latest reading taken around 2pm local time did not show any settlement or deflections.
The metro construction has been ongoing in the city for over a year, and the first phase of the construction includes a 48km underground stretch.
Work on 46km of the project has already been completed. The cave-in occurred in the last 2km stretch of the metro line, according to the New Indian Express.