Elliott is the man behind The TaxPayers' Alliance, Big Brother Watch, the No2AV campaign and Business for Britain. Then, of course, there is the Vote Leave campaign, the Boris Johnson-backed group which led the UK to vote for Brexit on the 23 June 2016.
The bombastic former Mayor of London stole the headlines, while Elliott and former Michael Gove aide Dominic Cummings ran the campaign out of the media spotlight.
With the gruelling Vote Leave operation over and the Brexit vote in the bag, Elliott has gone back to his roots as a researcher by becoming a senior fellow at the Legatum Institute in Mayfair.
"I wanted a home where I could look at two things: get my head around the rise of populism, as it's often called, and look at the similarities between Brexit and [Donald] Trump and [Dutch right-winger Geert] Wilders and [National Front leader Marine] Le Pen – I would challenge some of those assumptions that it's all part of the same mass," told IBTimes UK.
Beyond the academia, Elliott, 39, is still keeping his campaigning efforts up. He is editor-in-chief of BrexitCentral, the pro-Leave newsletter edited by Jonathan Isaby, and is a free trade advocate who loves the United States – quite literally since his wife is American.
"I felt I had a duty to carry onto into the next stage. Having fought the referendum and got the result I wanted, I felt that there was a third phase of making sure Brexit is a success," he said.
However, with Article 50 now invoked by Theresa May and the two-year-long Brexit talks starting, Brussels has poured cold water over some of Elliott's free trade ambitions by stating negotiations cannot start until "progress" is made on the divorce talks. Pascal Lamy, the former director-general of the World Trade Organisation, has also claimed such a deal could take six years to broker.
But Elliott, who backs May's "Global Britain" vision, argued that the negotiations should go on at the same time. "To me they are basically two sides of the same coin so they must be done in a tandem," he said.
"No doubt some preliminary discussions will be had first. For example, the rights of EU citizens living in the UK and UK citizens living in the EU will be agreed first, but then very quickly they will get onto the terms of the free trade agreement."
Away from the EU, Elliott said a free trade agreement between the US and UK is "crucial" for Britain's future economic prosperity and such a deal could serve as a "bedrock for a free trade zone between Anglosphere countries". May, with her trip to Trump's White House in January, has already started that process alongside 14 other countries, according to the Department for International Trade.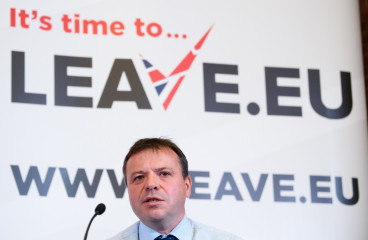 'No doubt Vote Leave won't be my final campaign'
But talk of free trade and a "Global Britain" may strike some as a world away from the EU referendum campaign, which saw a heavy focus on immigration policy and the fact that David Cameron could not meet his "tens of thousands" net migration pledge if the UK stayed inside the economic and political bloc.
Elliott rejected the idea that anti-immigration sentiment drove the Vote Leave campaign to victory and argued that sovereignty was a bigger concern for voters – his group's memorable slogan was "Take Back Control".
In comparison, Leave.EU, co-founded by Ukip donor Arron Banks and backed by Nigel Farage, unashamedly and repeatedly raised the issue.
"I talked earlier about the open versus closed Brexit and I talked earlier about how some people like to liken Brexit to Wilders," Elliot said.
"Frankly when I see Nigel Farage on the TV or some of the statements that Arron Banks makes, I can see why some people sit there and say 'actually, you're not different to Wilders or Le Pen'.
"But the battle that we went through during the referendum to make sure Vote Leave was a separate entity, allowing us to bring on board mainstream people like Boris Johnson, Michael Gove, Gisela Stuart, David Owen. Business people like [JCB chairman] Anthony Bamford and James Dyson. That fight was worth fighting.
"It wasn't a fight over designation and who was allowed to spend £7m ($8.7m), it was basically a fight over what type of Brexit we wanted – open versus closed."
So, with May now appearing to embrace an "open Brexit", what next for Elliott? "I've got no doubt that Vote Leave won't be my final campaign," he said.
"I don't know what it's going to be, after No2AV it took me 18 months to work out that the EU was the next big one and I devoted four years to that. It may come in 18 months or it may come in 18 years, but there's still a campaign in me."