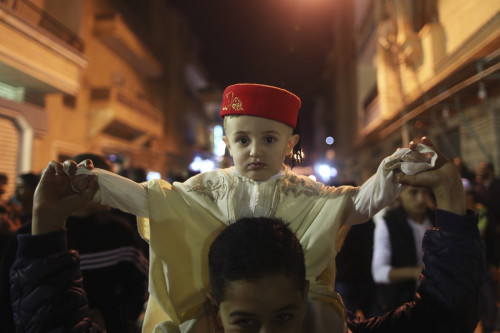 Muslims around the world are celebrating the birth of their prophet, Muhammad, which occurs on the 12th day of Rabi' al-awwal, the third month in Islamic calendar. The day of observance is called Mawlid.
This year, Mawlid falls between the evenings of 13 and 14 January.
Prophet Muhammad was born in AD 570 and is thought by Muslims to be a messenger and prophet sent by God. His birthday is observed by prayers at mosque and charity for the poor.
Muhammad's birthday is marked in different ways in different Muslim nations. Sufi Muslims in some countries such as Libya take out processions to mark the day. People wear traditional dresses to take part in these processions that often include singing and chanting of hymns and beating drums.
In war-ravaged Syria, President Bashar al-Assad offered prayers during a religious ceremony at al-Hamd mosque in Damascus to commemorate Prophet Mohammad's birthday, according to Syria's national news agency SANA.
Pakistan marks the day with a public holiday, gun salute and by hoisting national flag on all public buildings.
In modern times, decorations and lights have become a norm to celebrate Prophet Muhammad's birthday. The increasing commercialisation associated with the day has irked scholars who say it is not compulsory in Islam to celebrate prophet's birthday.
"Throughout the life of the Holy Prophet Muhammad, he never for once celebrated his birthday, and did not direct his righteous followers to do anything of that nature," a Nigerian Islamic Scholar, Sheikh Fadhilulah Hamzat, said during a Friday sermon at a mosque in Ibadan, Nigeria, local media reported.
"The annoying thing is that rather than limit the celebration to 12th Rabiul Awwal, when the Prophet was born, some Muslims continue the celebration months after,'' he said, according to the Daily Post.
Hamzat said that instead of collecting money in the name of Muhammad to mark his birthday, Muslims should imbibe his teachings of peace and love.
"They should live their lives in accordance with Islamic tenets and imbibe the teachings of Prophet Muhammad as exemplified by him while alive.''
Here are a few pictures of celebrations of Mawlid.