'May should stay' says home secretary Amber Rudd as the knives sharpen for the PM
Ex-Tory chairman Grant Shapps says Tory MPs are 'within their rights' to tell her to go.
The Home Secretary Amber Rudd has intervened in the crisis engulfing Theresa May, saying that she must stay on as prime minister.
With the dust yet to settle over the prime minister's disastrous conference speech on Wednesday (4 October), Rudd has become the first Cabinet minister acknowledging there is doubt on the front bench over the prime minister's future.
As there are reportedly 30 rebel MPs already planning to urge the PM to go, there only needs to be another 18 to make up the 48 required to force a no confidence vote.
But Rudd wrote in the Telegraph that the UK was at a "turning point" as a nation.
"So we shouldn't let our attention be taken away from what the Prime Minister's speech and this conference was really about.
"Yes, on a personal note, it was at times a little hard to watch, as her throat and voice caused her such difficulties.
"She dealt with it with guts and grace...Do not doubt that the Prime Minister's absolute commitment to tackling injustices is a real one," she wrote in the paper.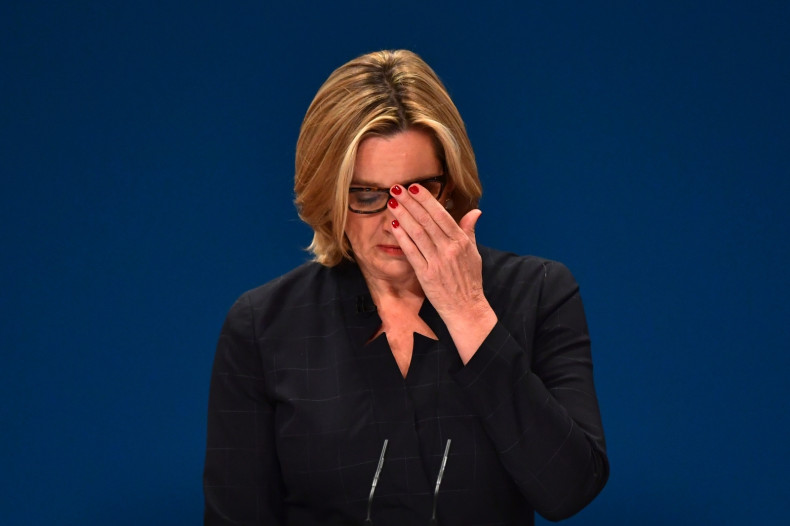 Rebel MPs have reportedly sought advice on a leadership challenge but have been told by those who organised the coup against former leader Iain Duncan Smith in 2003, which took a month, that "patience is key", the Guardian reported. There is a range of estimates for the deadline for her removal ranging from a couple of days to Christmas.
The Times said ex-Tory chairman, Grant Shapps, was a key figure behind an attempted coup.
He told the paper that: "I think having lost an election the party must look for a new leader to take the party forward". He also told the BBC that MPs were "perfectly within their rights" to urge Theresa May and although she was a "perfectly decent person" she had "rolled the dice" and lost in the snap election.
Meanwhile on Thursday night (5 October), the First Secretary of State, Damian Green, told Question Time: "I know that she is as determined as ever to get on with her job - she sees it as her duty to do so. She will carry on and she will make a success of this government."