Up to 30 Conservative MPs reportedly want to get rid of Theresa May as leader by the end of the year after her disastrous party conference speech.
The Telegraph reported that 30 MPs are set to sign a letter calling for her resignation, in light of her keynote speech in Manchester on Wednesday (4 October) which was beset by a cough, interrupted by a prankster and was framed by a slogan whose letters fell off.
A senior Conservative source told the paper that there were "great" policies in her speech but nobody will be talking about them.
"The public are far more brutal about these things. They will see a prime minister who looks ill, with the stage set falling down.
"It will compound many of the views that they already have for her. It should be a wake-up call at the moment."
Another minister said: "Things are moving quite quickly. Conversations are being held. The plates are moving more fundamentally now. She has to decide."
The Times reported that Tory MPs have warned the prime minister was "one crisis from the exit".
"Yesterday I thought she was two crises from the exit, now it's just one," a Conservative MP said.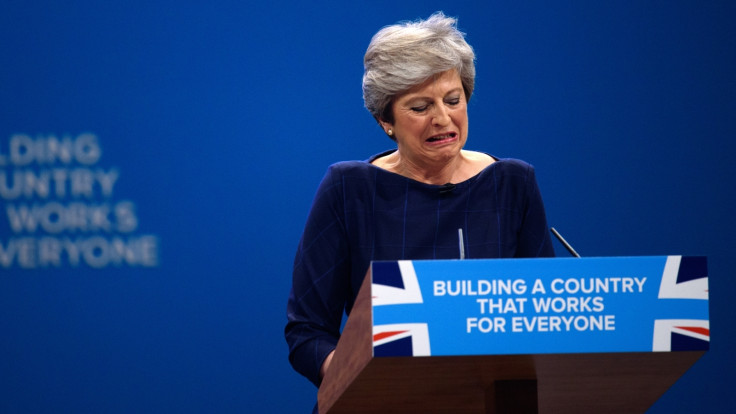 A minister said: "The question is now whether it's kinder to all concerned to bring this to a head."
Criticism was levelled at Party chairman Sir Patrick McLoughlin over the intervention of the prankster Simon Brodkin, whom police said had been vetted.
But there was criticism of May's schedule in which she gave 28 interviews and spoke at 19 receptions during the conference despite a heavy cold.
The prime minister's team faces criticism at allowing her diary to be so full, although one source at Number 10 told the Times that "it's similar to what she did last year".