Mayweather Camp Believe Manny Pacquiao's Killer Instinct is on the Wane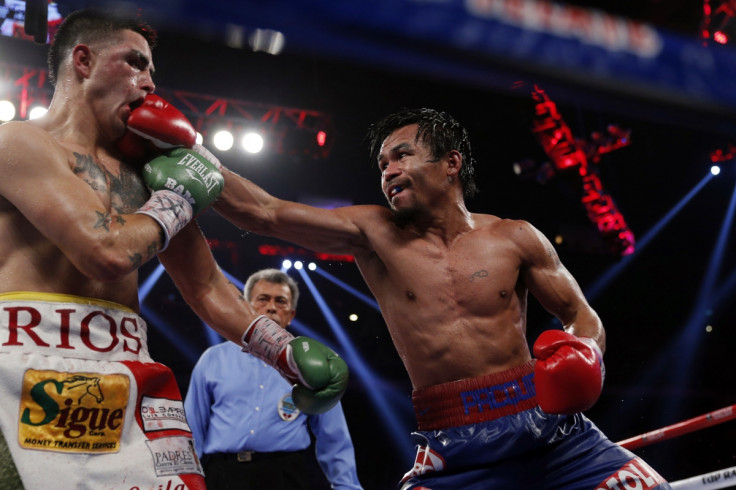 The Floyd Mayweather camp has again quelled talk of a long-awaited fight with Manny Pacquiao, insisting the Filipino no longer possesses the "killer instinct" required for the top level.
Speculation of an eventual meeting between the two fighters has refused to disappear since their 2010 bout was shelved but disputes over fees, drug tests and Mayweather's long-running feud with Pacquiao's promoter Top Rank has ensures their clash has remained a mere fantasy.
Both are primed for high profile bouts over the next two months with Pacquiao set for a rematch with Timothy Bradley on April 12 before Mayweather's Las Vegas showdown with Marcos Maidana on a card that also features Amir Khan in action.
But ahead of Pacquiao's long awaited rematch with Bradley, Jeff Mayweather, uncle of the five weight world champion, has discussed the 35-year-old's future in the upper echelons of boxing and believes his powers are on the wane.
"To be honest, he's not even close to that fighter anymore. It shows," Mayweather told the Examiner when asked how the Pacquiao of 2014 compares to the one who consecutively stopped Oscar De La Hoya, Ricky Hatton and Miguel Cotto five years ago. "When was the last time he knocked anyone out? It also seems like his killer instinct has gone. He's not the same fighter."
Pacquaio has lost one of his last two fights since his controversial loss to Bradley on a split decision in 2012 but although he believes "The Pacman's" best days are behind him Mayweather believes he will have the upper hand against the unbeaten American welterweight.
"At this point, I guess I still got to lean towards Pacquiao. He won the fight too big to not get the decision. I still think Bradley is going to give a great performance but I won't be surprised if he pulls off the upset.
"I guess the one thing is that he showed me he's got heart, he's got will, and determination. And don't get me wrong, I like Bradley as a fighter. Because he always seems to find a way, no matter what type of adversity he's gone through, he someone who finds a way to still perform on a high level."
© Copyright IBTimes 2023. All rights reserved.