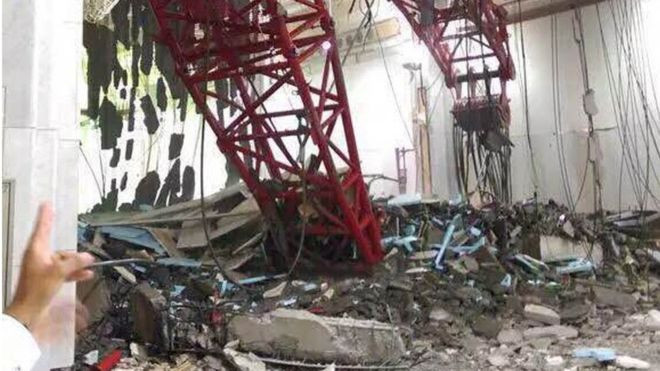 Saudi Arabia has launched an investigation into the Grand Mosque disaster to determine why a crane collapsed, killing at least 107 people. On 11 September, at 5.23pm local time (3.23pm BST), a huge red crane crashed through the ceiling of the iconic building located in the Muslim holy city of Mecca, as worshippers gathered for evening prayers.
Pictures and videos posted on social media showed the moment the crane was struck by a bolt of lightning before it came crashing down. A loud bang is heard followed by panic and shouting. Bodies and blood could be seen on the floor of the mosque.
According to Saudi Civil Defence, the death toll from the tragedy is now believed to have risen to 107 with at least another 230 injured. Officials say they had previously warned of high winds, heavy rain and thunderstorms in the area, which occurred when the crane crashing through the ceiling of the mosque which surrounds Islam's holiest place, the Kaaba.
WARNING: SHOCKING SCENES
The mosque which is believed to date back 1,400 years features a large square surrounded by covered prayer areas. In 2014, authorities began a major expansion of the site to increase the area of the mosque by 400,000m sq (4.3mft sq), to allow it to accommodate up to 2.2 million people at once. The crane that collapsed was one of a number stationed around the site, but correspondents have said there have been concerns raised about safety records on Saudi construction sites.
"The entire area is like a salvage yard," Irfan Al-Alawi, from the Islamic Heritage Research Foundation, told the BBC. "Saudi Arabia has to re-think its health and safety strategy," he said, "as there were 800,000 people in the mosque area at the time of the accident."
The head of Saudi Arabia's civil defence agency, Lt Sulayman Bin-Abdullah al-Amr, said an investigation was being carried out to assess the damage and the "extent of the safety of these sites".
Mecca is currently preparing for the annual Muslim Hajj pilgrimage. Up to 2 million people are expected to arrive in the city from all over the world later this month.