After overseeing his peer-to-peer finance outfit cap £1bn in lending over the last four years, Anil Stocker is a man in a hurry to get to his next billion mark "by the end of 2017". You would be too, if you were the chief executive officer and co-founder of MarketInvoice, the world's largest peer-to-peer online invoice finance platform that's ruffling a more than few feathers in a very competitive lending sphere.
It all began when he walked down a nascent Fintech pathway back in 2011 with his MarketInvoice colleague and co-founder Ilya Kondrashov. That journey began when the word 'Fintech' hadn't ventured beyond circles frequented by tech geeks and finance wonks, Stocker tells IBTimes UK.
"We were among the first movers into the emerging Fintech space; there was quite literally no such thing as Fintech in 2011. Just as market lending was recovering from the aftermath of the global financial crisis, we said we'd try and build a better way of doing things when it came invoice financing."
The jitters were there in a post-crisis world with credit markets still pretty frigid, Stocker admits. "But we were lucky in a sense that there was a lot of money held by high net worth individuals and venture capitalists looking to invest.
"With interest rates pretty low, such entities were all looking for somewhere to park their money and get better returns. Our research led us to believe that they'd be a lot of takers who'd say that if we can get them invoices to blue chip-end customers and want the financing for it, they'd up for doing that."
That hard slog to Shoreditch
From his quirky new office in – where else? – but London's Shoreditch district, in a staff-room complete with ping-pong and bar football tables, espresso machines and thinking pods, Stocker narrates the hard slog to success.
"Strangely it was easier to find the funding, but harder for find the right kind of businesses to lend to in the beginning. The businesses we were targeting back in 2011 didn't know who we were, and level of trust – which is very important – in financial services had to be established.
"People don't realise how hard it is get a financial services brand off the ground. We weren't a bank with branches, just a team of professionals putting forward a completely different lending model for invoice financing. So the first users really had to take a leap of faith. Once we had the first few customers we were able to do case studies, showcase them.
"Furthermore, you also have to be careful that you are not taking on too much risk. Prudency is required in terms of getting return on investment, building critical [client] mass, figuring out our risk model."
But that was then, and the here and now has seen plenty of venture capital investment flow into MarketInvoice with the British Business Bank coming along too.
"Nowadays, it's a different challenge – all about what products we want to create, how to position these products, how we want to fund ourselves, the regulatory landscape and of course, how do we compete with the big banks from whom we are taking more and more business off."
No Fintech fist-fight
To the outside world, the Fintech sphere might appear cluttered and competitive, and all about going after big banks, but Stocker says that is an oversimplified interpretation of the market dynamic.
"For starters, there's no bust-up among Fintech players. All of us are chasing the big elephant in the room – the big banks. So ourselves at MarketInvoice, Zopa and FundingCircle, we're kind of the first movers in the peer-to-peer lending space with different outlooks and business targets doing things that differentiate us from big banks.
"We're still the flies around the big elephant, so peers and competitors are on the same side. All of us are small compared to HSBC, Lloyds, Barclays, and other legacy finance players whose market and scope is very, very big. Our goal is trying to convince people looking for invoice finance not to just run to their bank for funding needs, but rather consider talking to us."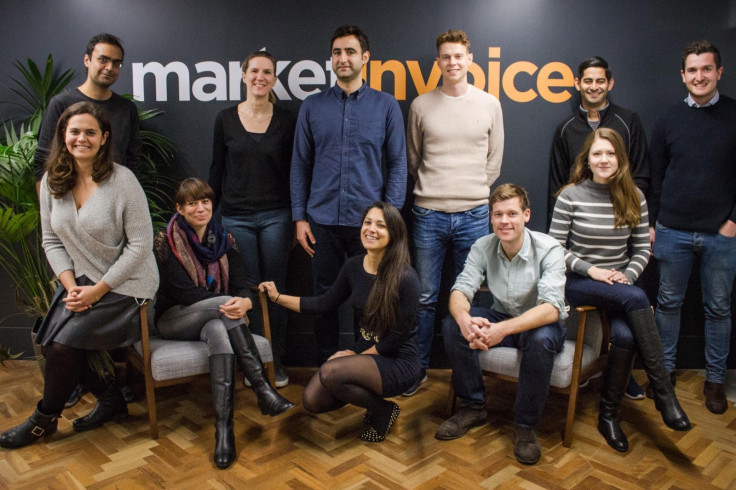 To this effect, the company has launched a new confidential invoice discounting service, MarketInvoice Pro which targets companies with permanent funding need, and expands reach and size of funding available. The invoice discounting line is secured against outstanding invoices.
"Our digital platform connects to a company's accounting software to credit score and provide real-time limits and balances. Companies can use the funding line when they need it, and the value of the facility grows as the company grows," Stocker explains.
MarketInvoice's lending has increased four-fold over the last 12 months, providing on average £2,196 every minute to UK businesses.
"While we believe we can take a big market share from the banks, we also believe we can partner with the challenger banks, for instance Metro Bank or Hampshire Trust Bank, and others with a simple message why build a Fintech product, why not partner with us?"
Brexit, what Brexit?
MarketInvoice is also examining other geographies, especially France and Spain, where business have the same sort of working capital issues that British enterprises face.
Stocker says his motley crew in Shoreditch are not perturbed by the Brexit kerfuffle. "For us it's business as usual, Brexit has not affected us up to this point. Many of the business that we help, are export oriented and doing well, and in some cases exceptionally well, given the fall in the value of the pound.
"Of course, no one wants a full blown recession and claims that we would be hit by one after the Brexit vote have [so far] proved to a bit exaggerated. I hope that the UK can achieve Brexit objectives in an orderly, internationalist fashion and become global as our political masters are promising. There's nothing bad in becoming truly global, as we are told, and trade more with the world and not just Europe."
Stocker, who also sits on the government's Fintech delivery panel of 20 chief executive officers from within the sector, also says it'll be hard to unseat London as the Fintech capital of the world.
"I speak from personal experience that London is a great place to base your Fintech company. The regulatory regime, talent available and the geographical placement (i.e. the ability to do the business with the East and West on Greenwich Meantime), are major factors in London's favour."
"[Chancellor] Philip Hammond and [Economic Secretary] Simon Kirby say they want to make the rise of Fintech integral to the Theresa May administration's policy framework on finance, and we take them at their word."
Furthermore, the appetite for asset-based finance is roaring and MarketInvoice is busy carving its own niche in this £20bn industry, a billion at a time.