Israel: Ethiopian Jews protest in Jerusalem against police brutality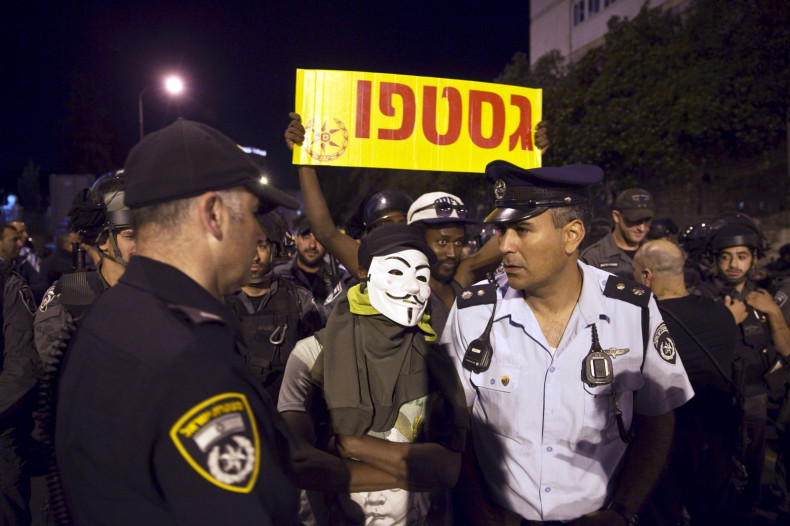 As protests raged throughout the United States, Israel dealt with its own demonstrations on 30 April, after about 1,000 Ethiopian Jews took to the streets of Jerusalem to protest police brutality.
The protests, which occurred in front of the national Israel police headquarters, were prompted by a video showing two police officers attacking an Israeli soldier of Ethiopian descent.
According to Haaretz, the incident occurred on 26 April in the Tel Aviv suburb of Holon. The video shows a police officer pushing Demas Fekadeh to the ground after Fekadeh does not move at the officer's request. Another officer is then seen hitting the soldier.
Thursday's protests began with several hundred demonstrators, growing to about 1,000 later in the evening, Haaretz reported. Protesters marched from the police headquarters to the centre of the city, near the Prime Minister's Residence. They later blocked the intersection between Jaffa St and King George St, the newspaper reported.
According to the Jerusalem Post, the protests turned violent after demonstrators refused to disperse. "After receiving announcements that they must leave, the demonstrators continued to march, forcing police to disperse the crowd using forceful means," police spokesman Micky Rosenfeld said. "The protesters began throwing rocks and bottles at police while trying to fend them off."
Ten protesters and three police officers were treated for injuries by medical teams. According to Haaretz, seven protesters and two officers were taken to hospital for additional treatment. Two protesters were arrested after attempting to attack officers.
Jerusalem Mayor Nir Barkat attempted to calm protesters, saying, "Do you doubt that the prime minister, ministers, and 120 Knesset members want to embrace the Ethiopian community?" However, protesters questioned his actions.
One protester responded to Barkat, "I don't want a hug. Look at me as you would look at a white person. I don't need a hug. That is a patronizing attitude that says that I'm incapable, so let's give him a hug."
Prime Minister Benjamin Netanyahu also called for calm, according to the Jerusalem Post. "I strongly condemn the beating of the Ethiopian IDF soldier, and those responsible will be held accountable," he said. "It is forbidden for anyone to take the law into his own hands."
Meanwhile, Jerusalem Police Chief Chico Edri told protest organisers that he understood their anger and that the police was investigating the incident. Protesters argued the officers involved acted on racists beliefs and are calling for the officers to be put on trial. Haaretz noted that officials at the Justice Ministry's police investigation division have opened an investigation.