The third round of Wimbledon and Dustin Brown has already made his presence felt at the world-renowned tournament, knocking out champion Rafael Nadal.
The German player, who is ranked number 102 in the world, won 7-5, 3-6, 6-4, 6-4 sending the 14-time Grand Slam winner crashing out and causing the first big upset of the tournament.
While Brown's dazzling tennis skills left the Wimbledon crowd spellbound, with his dreadlocks flying and a cheeky flash of his tattoos, his flamboyant style brought a touch of charisma to the centre court.
Using the moniker @DreddyTennis on Twitter he describes himself as the "Star of the Adventure," and his journey to centre court has indeed been unlike any other.
Born in Germany, his parents decided to live in Jamaica when he was 11. It was while in the Caribbean that he decided to take up junior tennis, prompting his family to return to Germany in 2004 as he set his sights on becoming a professional player.
But Brown showed early signs of defying convention and brought his own brand of swag to the sport. He first toured the European tennis circuit in a VW camper van. He described the unique choice of transport as being "far from ideal" but a "lot of fun".
He won his first big break in 2009, when he made it through to the finals of several Challenger events. The following year, he became a top 100 player for the first time, earning enough money to start paying back his parents' loan.
It was then that he left the Jamaican Tennis Federation because of a lack of funding and instead opted to play for Germany.
While his grandmother hails from the UK he was not eligible to play for Great Britain because he did not hold a British passport and had not lived in the country for 24 months.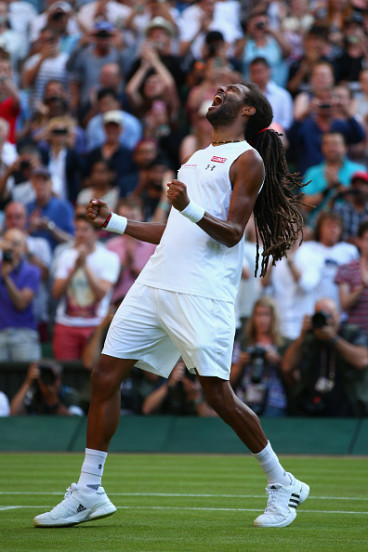 Speaking at the time, he said: "Everybody knows there's a lot of trouble with the Jamaican Federation and I couldn't be bothered with that, I tried for 15 years. I'm playing for Germany now.
"It's not a bad thing from them [LTA] or a bad thing from me, it just didn't really happen. I was looking to change from the Jamaican side, not because I'm not Jamaican and not because I don't like it. Of course I'm half-half, I'm proud to be Jamaican and I'm proud to be German."
Either way his extraordinary journey has brought him face-to-face with one of the worlds top ranking tennis stars. Brown set the court on fire and in the first big shock of the tournament sent Nadal packing.
"Coming playing the first time on Centre Court. It was awkward. I thought I would freak out a bit. I don't know if it was the match in Halle (a warm-up event in Germany where he beat Nadal) but being on the court with him made me feel comfortable. You have to play your A-game against him. I have nothing to lose playing him. That makes it easier for me, playing my shots. But if I lose no one's going to say anything bad. My game doesn't let him play his game."
"My plan was to come here and play good tennis. I didn't think about anything past that."
With all the rock star appeal of Lenny Kravitz and the tennis skill of Ivan Lendl, as the temperatures soar on centre court 'Dreddy' looks set to bring his own brand of cool to Wimbledon.