Nothing captures the imagination quite like a concept car with a face and a silly name. At least that seems to be Volkswagen's thinking behind Sedric, standing for "self-driving car".
Unveiled at the 2017 Geneva motor show, the car has no steering wheel or pedals and is claimed to be reminiscent of what Level Five autonomous vehicles will look like in the not-so-far future. VW claims Sedric could act as a "friend of companion" which is plainly a bit weird but suggests a future of cars brimming with Alexa- and Siri-style artificial intelligence.
To help it make sense of the world around it (and avoid crashing into human-driven cars), the Sedric prototype features five lidar sensors and seven cameras.
Sedric is hailed with a special key called the OneButton. Press it and the vehicle will arrive like an autonomous Uber, and once aboard passengers can interact with the car with through voice commands. Occupants speak to Sedric to set a destination, plan rest stops and choose a specific route.
The car is fully electric and inside there is seating for four. Volkswagen intends vehicles like the Sedric to be used either by individuals, families or by ride-sharers; much like an Uber Pool car we suspect discounts will be offered to those willing to share rides with strangers.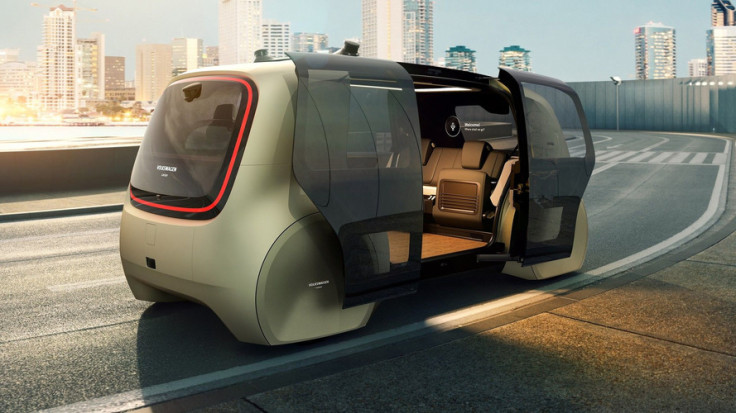 Naturally, there are many important caveats when discussing concept vehicles like this. For now it isn't clear if Sedric really can drive itself to the requirements needed to be branded Level Five, where it requires no human guidance whatsoever. That being said, VW is currently spending billions of euros of the development of autonomous technology, as is much of the automotive industry, making a future filled with autonomous vehicles like Sedric increasingly likely.
Volkswagen Group chief executive Matthias Müller said: "We are convinced that fully-automated vehicles will make life in our cities better, more eco-friendly and above all safer. Sedric gives the first concrete foretaste of that today. Sedric is a trailblazer and idea platform for autonomous driving. Many elements and functions of this concept car will reappear in vehicles from our brands in the coming years."