The fastest and most powerful Ferrari ever, McLaren's futuristic carbon-fibre sports car, and a road-legal Aston Martin incorporating Formula One technology – these are among the highlights at the 87th Geneva International Motor Show. No Geneva Motor Show would be complete with a selection of breathtaking hypercars — sports cars with ever-bigger engines and quicker acceleration – and this year is no exception.
The name says it all — the Ferrari 812 Superfast is "the most powerful and fastest" in the Italian car manufacturer's history. The huge 6.5 litre engine will take the vehicle to a top speed of 340kph (211mph) and from 0-100kph in 2.9 seconds. The engine has been tuned so that it produces "a full, rich exhaust sound that exploits the acoustic clout delivered by its increased displacement". Electronic side slip control will make all that power a little easier to handle, and active flaps at the front of the underbody shift to improve the car's aerodynamics.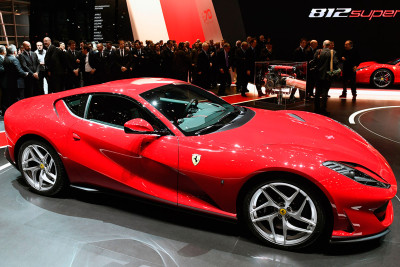 What's faster than Superfast? McLaren's sleek, bright-orange 720PS hypercar. Weighing only 1,283 kilograms (2,828 pounds), the car has a 720 horsepower engine that pushes it to 100kph in only 2.9 seconds, with a top speed of 341kph (212mph). Delivery to customers starts in May; prices in the UK start at £208,600 ($252,400).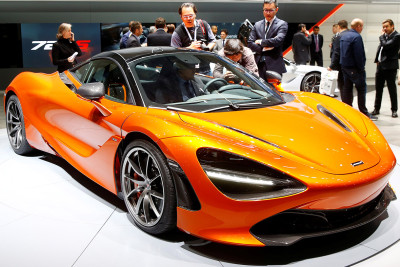 Aston Martin is showing the dramatic Valkyrie, which is expected to cost between £2m and £3m when deliveries begin in 2019. The car has a 6.5 litre V12 engine produced by Cosworth, plus an F1-inspired energy recovery system to gather energy normally lost when braking and feed it into a battery pack, ready to be deployed back to the wheels during acceleration. IBTimes UK motoring correspondent Alistair Charlton went weak at the knees when he saw it in Geneva: "The way the cockpit appears to be suspended above the ground like a Star Wars Podracer is pure theatre, while the elevated wheel arches give the car the look of prototype Le Mans racer, only even more beautiful."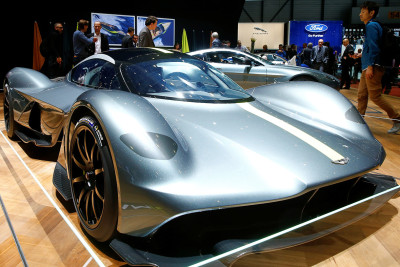 The Huayra Roadster from Italy's Pagani stands out with a bold curve running from roofline through roof pillar to the hood. It's powered by a gigantic 6.0 litre, 12-cylinder engine turning out 764 horsepower. Just 100 examples will be produced and each is likely to cost far more than the £2m basic price.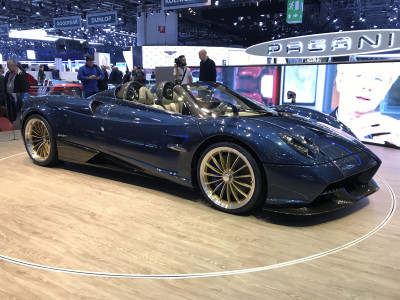 A key trend at Geneva is the shift from minivans to small sport-utility vehicles, which combine car-like features such as plush interiors and sleeker rooflines with off-road features like high clearance.SUVs are increasingly important in the European market, rising from 7 percent to 20 percent in the decade from 2007.
IBTimes UK looks at the hottest hypercars, toughest SUVs and wackiest concept cars on display at the show, which opens to the public on Thursday 9 March.