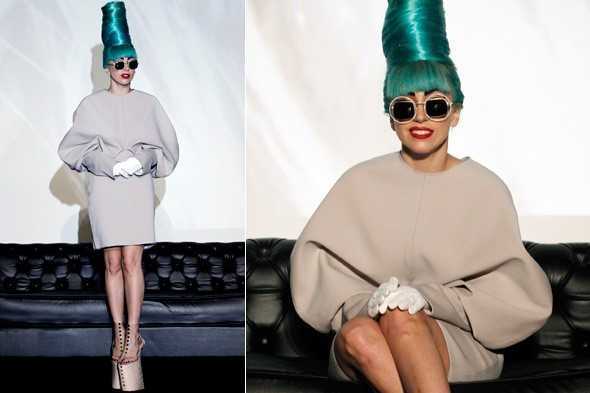 From the moment Gaga appeared at her press conference in Singapore sporting an unusual magnificent beige dress; fashionistas wanted to know who the talented designer behind it was.
Yet no one would have anticipated that Gaga would reveal, on Twitter no less, that it was in fact small town fashion student Rebecca Short who had created the critically acclaimed garment.
We caught up with recent graduate to see how she felt about this an exceptional fashion achievement and even more importantly how did Lady Gaga learn about the dress?
When did your interest in fashion first start?
My mum taught me how to use a sewing machine at a young age, so I was always attempting to make things for me and my friends to wear (often unsuccessfully). I really enjoyed textiles at school and carried this on to A-level where I became more and more interested in fashion.
Womenswear is interesting to me; I feel the female form provides a great deal more versatility when it comes to designing.
When did you create the dress? And did you have any inspirations/themes for the dress?
The dress was designed as part of my final collection for my degree of which there were 6 outfits.
The theme for the collection was looking into negative space. Whilst carrying out the project I looked at various artists work including Gordon Matta-Clark, Rachel Whitread and minimalist artists Donald Judd and John Pawson.
The dress was created from some experimental work I carried out based on the work of Gordon Matta-Clark, who slices into buildings opening them up to expose the insides, whilst still maintaining the structure of the building.
I cut into the shoulder seam of a pattern piece and opened it out adding in excess fabric that wouldn't normally be there, giving the exaggerated shoulder you see in the dress.
I didn't ever envisage any particular person wearing the dress. I was just working hard to produce a collection I was proud of and wanted to achieve the best degree I could.
How did you get Lady Gaga to wear your design?
I was contacted by her stylist a few days after graduate fashion week by email, asking if I could send the dress to potentially be worn by Gaga in some promotional work in Singapore. So the university sent it off for me. I didn't hear anything for a few weeks, then whilst in Guatemala on my travels I received an email from the stylist informing me that Gaga had worn the dress in a press conference in Singapore that morning.
I am holding onto the dress at the moment and haven't made any decisions as to what I will do with it.
Would you pitch any other dresses to Lady Gaga?
I'd love to! Her stylist has said to send over any new work I do, so who knows hopefully in the future she may wear another!
What impact has this Lady Gaga accomplishment had on your career? Have you had offers/comments given from other designers?
It has given me a lot of publicity which I'm very grateful for! As of yet no offers or comments from designers, but Suzannah who I'm working for is very pleased for me to have had such a great start and I'm really proud to be working for her.
Are there any other celebrities you would like to design?
Gaga being one of the fashion icons of the moment, it sets the bar pretty high! With Kate Middleton having so much attention at the moment, I would love to see her in one of my designs!
What career plans have you got after graduating? Any fashion houses you want to intern at?
I am actually very lucky to have got myself a job with a fashion designer. I interned with between 2nd and 3rd year called Suzannah, which sells unique tailored designer dresses & luxury womenswear based on Warwick Av in London.
I have had a lucky break. The industry is notoriously hard to break into, so am really happy to have been given this chance.
Do you feel any pressure having made such a big accomplishment so early in your career?
I feel very lucky to have been catapulted from university into such a great situation! Having dressed one of the fashion icons of the time, I suppose yes, I do feel I have set the bar pretty high for myself!!
What would you say differs to your material to other designers? What sets you apart from other designers?
I like to do a lot of three dimensional experimental work and play around with shape and form then design pieces from that. Also I like to experiment with alternative fabric choices, for example the dress worn by Gaga was made from neoprene (which is traditionally used for wetsuits.)
Who are your influences in the fashion world?
I'm really into designers such as Calvin Klein, Jill Sander and Raff Simons - I like the minimalistic look.
In terms of high-street I love Topshop, Urban Outfitters and am a huge fan of Cos, designing for them would also be great.
Do you feel the pressure being a young new designer, given the stereotypical critical views about the fashion world?
With fashion being such a subjective art you will always come across people who criticize your work. It's important to have self-belief and be passionate about what you do, so that when the pressure is high you can maintain a level of sanity. I haven't even started out yet, so am unsure as to how I will cope with it all when the time comes.
How much as your BA Fashion degree from Birmingham City University contributed to your fashion skill?
Loads! I learnt so much studying at Birmingham City University; the tutors are all so supportive and really help to nurture individuality. The support staff are amazing and the links the university have with industry really help you to become familiar with what the industry is like.
The expectations the Birmingham City University has of you is really high and I found this helped me to push myself enabling me to achieve things I never thought possible.
As a recent graduate of fashion which is such a competitive subject, do you have any advice for your peers?
Just to follow your passion, and work as hard as you can, and enjoy it!
In terms of getting advice I have a great relationship with my Mum, we talk a lot about everything and I know she'll always give me good honest help and advice.