Actor Meghan Markle attended the opening ceremony of the Invictus Games in Toronto, Canada on Saturday night (23 September), but was not sat alongside her boyfriend Prince Harry. There had been speculation that the event would mark the couple's first public appearance together.
Instead, Prince Harry was sat alongside US First Lady Melania Trump in a VIP area at the Air Canada Centre, close to Canadian Prime Minister Justin Trudeau and Ukrainian President Petro Poroshenko.
Markle was some eighteen seats away with friend Markus Anderson, who introduced the couple last year.
Royal protocol dictates that the pair cannot sit together at public events as they are not engaged.
Prince Harry was there to open the third Invictus Games, which he set up to support sick and wounded armed services personnel, who compete across the eight-day event in a series of sports.
In his opening speech, Harry recalled his time as a helicopter pilot in the armed forces, serving in Afghanistan, including one particular flight in 2008.
"As I was waiting on board the plane, the coffin of a Danish soldier was loaded on by his friends. Once on the flight, I was confronted with three British soldiers, all in induced comas with missing limbs and wrapped in plastic.
"The way I viewed service and sacrifice changed forever and the direction of my life changed with it. I knew it was my responsibility to use the great platform that I have to help the world understand, and be inspired by, the spirit of those who wear the uniform."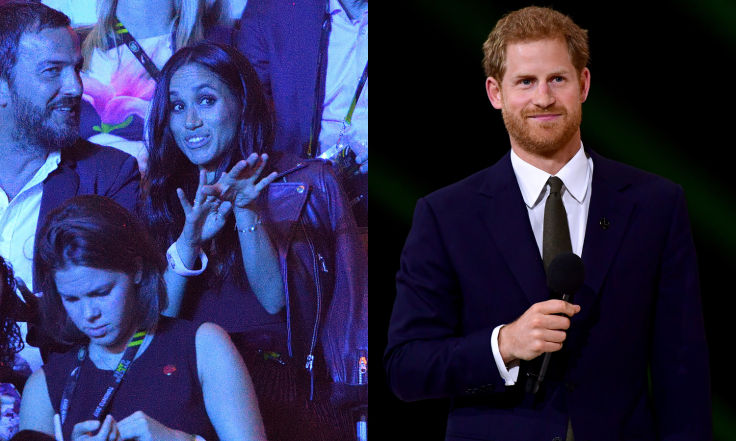 He later said of this year's event: "More sports, more nations, more friends and families, more fans watching than ever before. We have the biggest crowd that Invictus has ever had." He concluded by saying: "You are all winners. You are Invictus. Let's get started."
Many of the games' competitors lost limbs while serving their countries, while others bare psychological scars from their time in combat. They'll compete in events including Archery, track and field, cycling, swimming and wheelchair versions of basketball, rugby and tennis.
Fifteen countries are competing at this year's games: the UK, US, Canada, Germany, France, Australia, New Zealand, Italy, Denmark, Estonia, Netherlands, Romania, Jordan, Ukraine, Iraq and Afghanistan.
Previous Invictus Games have taken place in London and Orlando, Florida in 2014 and 2016. The next games will take place in Sydney, Australia.