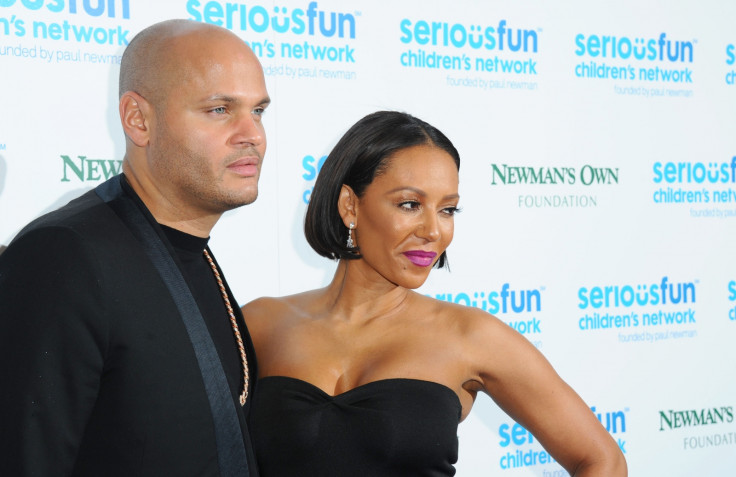 Mel B has spoken out in defence of her husband Stephen Belafonte.
The couple's marriage has been the focus of speculation after the former Spice Girl was hospitalised and appeared to be sporting scratches and bruises on her arms when she appeared on The X Factor final.
Her wedding ring was also missing from her hand when she appeared on the ITV show.
The singer, who married the movie producer in 2007, has refused to respond to the rumours until now.
Taking to Instagram on Sunday night, she shared a picture of the pair together, alongside the caption: "This is for my fans having problems with my Twitter will be back soon! I'm very good was very polly [sic] (poorly) but much better now and for the record my hubby never would lay a hand on me sorry took so long but any response fuels rumours #lovemyfamily #lovemyfans."
The post comes after the 39-year-old was seen wither husband in California holding hands as they left a sushi restaurant in Tarzana. Showing off their wedding bands the couple put on a display of togetherness.
The family had spent Christmas Day together, and the X Factor judge shared a happy family picture on Instagram with the caption: "Have a merry Christmas! #familytime #funday."
Mel's daughter Phoenix, from the star's first marriage to Jimmy Gulzar, had earlier responded to Instagram users who had criticised her step-father writing: " Can everyone just chill he didn't hit my mom don't know how that stupid rumour came up."
It was reported that Mel had left her husband before she was rushed to hospital, causing her to miss the first live show during The X Factor final weekend.
Shortly after, Stephen slammed speculation from the singer's fans on Twitter that he had hit her, saying: "You can only re-mix ten things, ten ways, so many times. Who accused me of it, did she accuse me of it, the police, the hospital, who accused me of it. I thought when you beat someone up the police or the hospital or the person you beat up says it."
Some members of singer's family, including her estranged sister, have suggested that Mel is in a controlling relationship with Belafonte.
Belafonte's brother, Oregon based Jeremiah Stansbury claimed the Leeds born singer is 'addicted' to her husband.
According to The Sun he said: "It's foolish. She could do so much better. Steve is an expert at mind games. Mel has her own insecurities and that's how he got her in the first place. She's addicted to him and the sad thing is she doesn't have to be."