Donald Trump's wife Melania and their youngest son Barron moved into the White House over the weekend, nearly five months after the president was sworn into office. Slovenia-born Melania's parents Viktor and Amalija Knavs, who have been living with their daughter and grandson in Trump Tower, also accompanied them to Washington but are not expected to be moving in.
The internet, however, focused in on Melania's father's looks saying he bears a striking resemblance to her husband. Gizmodo writer Matt Novak tweeted a photograph of Viktor and Amalija Knavs stepping off Air Force One at Andrews Air Force Base in Maryland.
"I had no idea what Melania's dad looked like until now and um..." Novak wrote.
Social media users immediately began to draw comparisons between Viktor's appearance and that of Trump's.
"He could be Trump's stunt double," one Twitter user wrote. Another chimed in: "Sigmund Freud would have a field day."
"Melania. Girl. We need to talk. Your husband and dad look like they're cosplaying each other," one person wrote.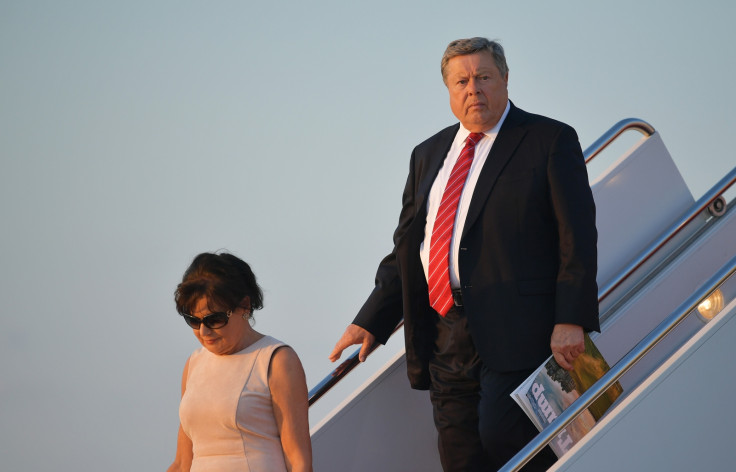 American author Litsa Dremousis tweeted: "Freaking hell: Melania's dad IS HIS TWIN...Must everything about this family come from a Psych pathology textbook?"
Others said he looked a lot like Norm Peterson, the regular bar patron from the popular American TV series Cheers, John Goodman from the hit TV sitcom Roseanne and a few other actors.
"John Goodman is Melania's dad?" one Twitter user wrote.
"In the TV movie of this debacle Donald Trump and Melania's dad will be played by the same actor. (William Shatner is my pick," one user tweeted.