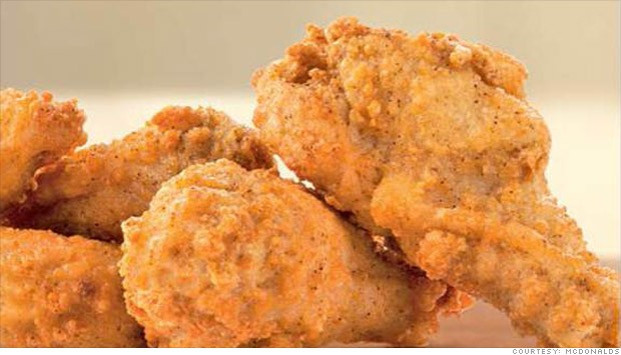 A father and son in Tennessee allegedly threatened to shoot a fast food cashier with an AK-47 after they did not get the chicken wings they ordered.
According to WREG-TV, the two assailants - both called Antonius Hart - drove back to Pirtle's Chicken fast food restaurant and pointed the firearm at a member of staff after realising their wings were missing.
The pair, from Memphis, are said to have been furious about the mix-up when they returned to the drive-thru and declined the cashier's offer to replace the missing pieces.
After staff apparently refused to give in to their demand for more chicken as a way of compensation, Hart Sr, 45, allegedly brandished an AK-47, the Commercial Appeal newspaper reports.
When another member of staff saw the gun, she called police who promptly arrived and arrested both men.
Hart Sr was charged with aggravated assault and his son, 19, with facilitation of a felony, WMC-TV reported.
Police recovered the weapon and 24 rounds of ammunition.
The restaurant has not commented on the alleged incident.