The mental health of 14 million people is affected by rising mortgage rates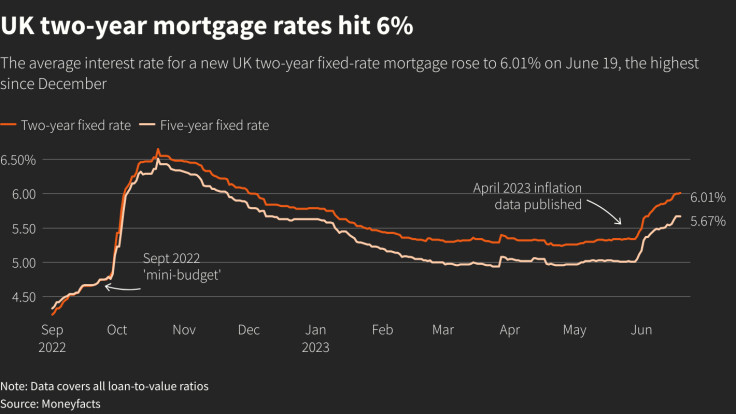 With the rising cost of living in the UK, the prices of just about everything are going up. The cost of regular expenses like food, household energy, European consumer goods, road fuel, gas, electricity and even mortgage rates are constantly increasing.
For instance, the average two-year mortgage rate increased over the last autumn, averaging six per cent today, remarkably, for the first time in 15 years. This increase in mortgage rates, according to research, is simultaneously sparking worry and anxiety in the hearts of millions.
So it should come as no surprise that the mental health of millions of people across the country has been heavily impacted by fears of bankruptcy, penury and enormous debt.
Startling new research from the UK's largest mental health charity, Mind, has revealed that around 14 million are seriously struggling with their mental health, as well as their own finances, due to the impact of soaring mortgage costs.
The organisation's findings show that almost a third of people living in England and Wales have been affected by the news of, or experiencing increased mortgage costs over the last year.
One in 10 people claimed that this news had affected their mental health to a significant degree.
These figures come as the Bank of England recently announced a further rise in interest rates to 5.25 per cent, which has most likely left many mortgage holders anxious about the state of their finances.
Research shows that the psychological effects of increasing costs in mortgages were even greater for those already with pre-existing mental health problems.
In fact, four in 10 people (36%) stated that the increasing mortgage rates had worsened their mental health to a dangerous degree.
Even younger people across the UK were also impacted by this increase, with almost half of those aged between 16 and 24 claiming that the recent mortgage situation had negatively impacted them in some way.
Vicki Nash, Mind's Associate Director of External Affairs, commented on these concerning figures, saying: "As we continue to grapple with the rising cost of living, news of yet another possible increase in mortgage rates will be difficult for many families to bear."
Nash continued: "Money problems and mental health often form a vicious cycle, and when we're struggling to deal with one, the other can become much harder to manage, particularly when it threatens to impact our housing situation."
The director further added: "These figures show this is a mental health emergency that everyone is going to need help to deal with."
Superiors at Mind have revealed that they have seen a 55 per cent increase in the number of people contacting their Infoline over the last 18 months to discuss financial difficulties, welfare, debt and unemployment.
Ben Groves, who has worked as a mortgage broker at Affinity Mortgages for three years, stated: "Lenders are not making it easy for mortgage brokers and there is not enough well-being support."
He went on to say: "I am having really difficult discussions with people about their payments doubling or tripling to many hundreds of pounds more a month, and brokers are on the front line seeing the impact this is having on people's lives."
"It's not unrealistic to ask for more notice from lenders to give brokers time to do their jobs well, and there must be support for people in my line of work who are finding the stress of the current situation affecting their mental well-being," Groves concluded.
---
© Copyright IBTimes 2023. All rights reserved.