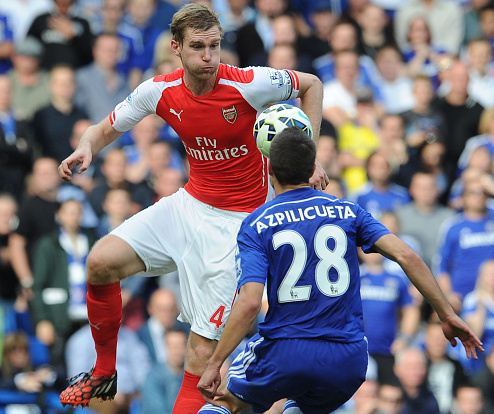 Arsenal defender Per Mertesacker believes that the Gunners have to improve in set-pieces both offensively and defensively in order to keep their title challenge alive in the Premier League.
The Gunners dropped crucial points against Manchester City late in the game when they conceded an equaliser from a corner.
The hosts were 2-1 up against the reigning Champions with five minutes to go but were undone by a set-piece, something which the north London club has to work on.
Arsene Wenger's men are also weak at scoring from set-pieces with the Gunners yet to register a single goal so far from a dead ball situation in the league.
Arsenal had progressed in that department last season but need to get the determination and instinct back if they have to break down teams sitting deep in their half.
Mertesacker revealed that they are working very hard in training and trying to make sure they get more potent in attacking a set-piece and also eliminate their weakness when it comes to defending.
"We have to go through the set-pieces and say what went wrong because last year we had quite a good record. We need to improve on it this season because we've conceded from them already," Mertesacker told Arsenal.com.
"It's all about reminding ourselves how good we are in the air from set-pieces, but we have to get to the ball and stop opponents getting into dangerous areas. That's what we need to improve. We had a good record throughout last season but we need to find that again quickly.
"[Attacking corners] is a part we have to improve as well. The deliveries, the timing, there's a lot of detailed things we have to improve. A lot of it has to do with concentration, strictness and good deliveries and good timing.
"When we went through the situation we could see that not everyone was on the ball. We have to be able to score or avoid conceding goals. We have to make sure that we are ready and concentrating on every set play," he added.