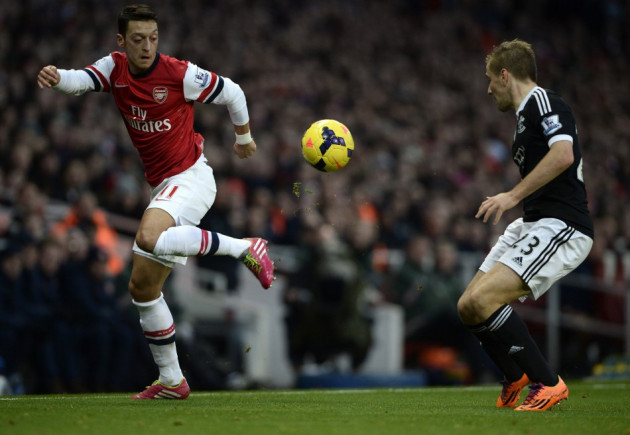 Arsenal star Mesut Ozil has revealed that manager Arsene Wenger was the main reason why he signed for the north London club.
The Gunners signed Ozil last summer, paying a club record £42.4m to Real Madrid to acquire his services. Wenger was looking for a star player and after failed to secure Liverpool's Luis Suarez he opted to sign the German playmaker.
Ozil said that the French manager convinced him to commit his future to Arsenal.
"The reason I signed for Arsenal was not that there are other Germans players at the club," he said in an interview with Four Four Two. "It's because the manager convince me.
"As a player you need the manager's trust and the club's trust. And I felt this from Arsene Wenger and the club. That's why I made my decision. Of course I talked to the Germans guys about what the club is like, what the city is like, But the crucial thing was the manager's trust."
Ozil have made a great impact in the Premier League since he arrived in the Emirates. The 25 year old has scored two goals and provided seven assists - the most assist in the top flight and helping Arsenal to a four-point lead at the top.
"We are happy things are going so well. We got off to a god start and we have won some important games, but we must keep our feet on the ground." Ozil added.
The German star praised the level of the Premier League and claimed he is enjoying his new life in London more than in Spain.
"London is just incredible. It's a lot of fun living here. There's always something going on. I'm also happy that I can have my private life here. In Madrid, all he broke loose wherever you went, nut in London it's much more reserved."
Ozil talked also about his childhood, how he became a top player and confessed that as a kid he dreamed about being the new Zinedine Zidane.
"I used to play with my brother and his friends. They were five years older and a head taller than me. So it wasn't easy to assert myself. But I learnt how to prevail and that's when all they said: you are going to make it. I just wanted to have fun and be like my favourite player, Zinedine Zidane."