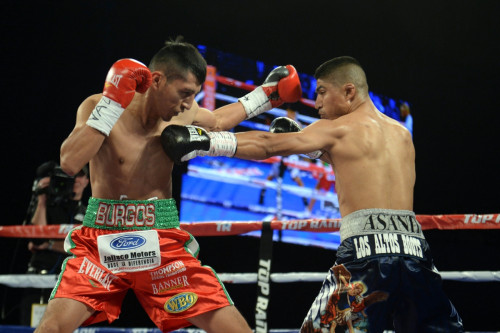 Mexican featherweight boxer Oscar "Fantasma" Gonzalez has died of brain injuries following a knockout punch by Jesus Galicia during the 10th round of the World Boxing Council's Latino Silver championship in Mexico City.
Jose Reynoso of Canelo Promotions told ESPN.com that "these things happen in boxing and nobody expects them to happen in the ring".
Gonzalez, 23, lost consciousness after being knocked out and suffered severe brain injuries and brain stem damage.
"Even though we weren't there at the fight we know Oscar did receive the best treatment at the hospital before and after his death," Reynoso added.
"Fantasma," was the favourite against Galicia, but appeared to be losing before reaching the 10th round in the 12-round game.
Gonzalez appeared to have seizures during the match and ringside medical personnel surrounded him, gave him oxygen and a neck brace and carried him out of the ring on a stretcher.
He spent some 36 hours in intensive care at the Hospital Espanol, but was later taken off life support, according to ESPN.
His wife, Magaly Avalos and his parents, Miguel Angel Gonzalez and Luz Teresa Arriaga, were by his side in his final moments.
About three months ago, another boxer had died in Mexico of injuries during a match.
Mexican boxer Francisco "Frankie" Leal had also died of brain trauma, three days after being knocked out by Raul Hirales in a resort at Los Cabos.