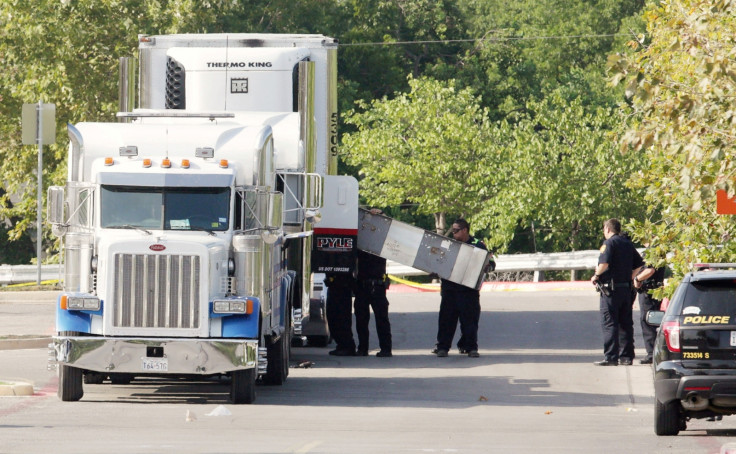 Police in Texas have found 17 undocumented immigrants locked inside a tractor-trailer at a gas station about 20 miles (32km) from the US-Mexico border. The discovery comes less than one month after 10 immigrants died in the back of a hot truck in San Antonio.
The immigrants may have been in the locked tractor-trailer in Edinburg at least eight hours before they were freed on Sunday (13 August), Edinburg police's Oscar Trevino told KGBT-TV. Nine required medical attention, The Associated Press (AP) reported.
Two Cuban nationals, a man and a woman, were in charge of the 18-wheeler and have been detained, Trevino said.
Authorities said a tip off from an unknown person in Mexico saying a relative was trapped inside the tractor-trailer with several others alerted police to the truck at the service station.
Officers knocked on the sides of the trailers at the service station before receiving return knocks from the one with the immigrants inside.
Trevino said the undocumented immigrants are from Romania, Honduras, Guatemala and Mexico, KGBT reported. After the rescue, Edinburg police brought them pizza and water and the incident is being investigated by the US Immigration and Customs Enforcement (ICE).
The discovery comes three weeks after 10 people died in a hot 18-wheeler parked at a San Antonio Walmart. An estimated 100 people had been packed into the back of the truck at point during its journey, survivors told immigration officials. Only 39 people were inside when rescuers arrived.
The AP reported that 20 of those rescued were taken to hospital suffering from extreme dehydration and heat stroke. The rig's driver is in federal custody and is charged with illegally transporting immigrants for financial gain, resulting in death.