Mexican President Enrique Pena Nieto has flatly rejected Donald Trump's claim that it will pay for a wall along its border with the US.
The US President-elect has pledged to start construction soon after his inauguration on 20 January. Over the course of the presidential campaign, Trump insisted that Mexico would foot the bill for the wall, but his team has been discussing a plan with Republicans in Congress which would involve US taxpayers covering the costs.
Trump said he plans to have Mexico reimburse the wall either by imposing a tax or a payment, although the latter would be difficult given that paying billions of dollars for the structure would be political suicide for Nieto.
In a much anticipated news conference on Wednesday (11 January), Trump said: "We're going to start building. Mexico in some form, and there are many different forms, will reimburse us and they will reimburse us for the cost of the wall. That will happen, whether it's a tax or whether it's a payment – probably less likely that it's a payment. But it will happen."
Vehemently denying that he was breaking with his campaign pledge, Trump said: "Reports went out last week, 'Oh, Mexico is not going to pay for the wall because of a reimbursement.' What's the difference? I want to get the wall started."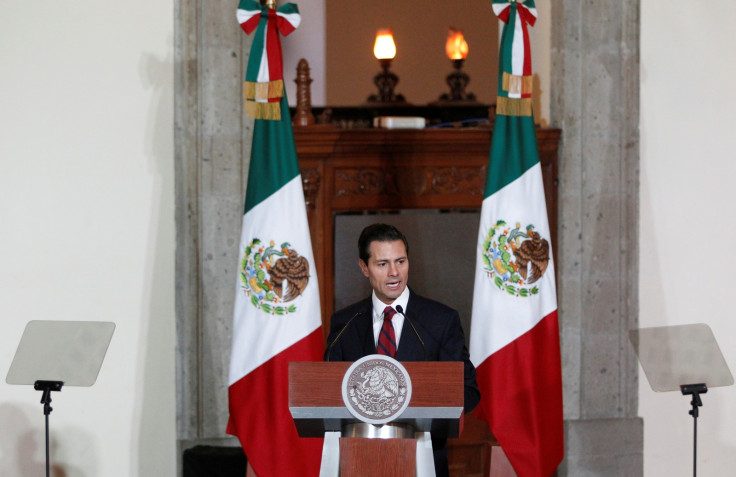 Despite his comments, Nieto struck a markedly different, yet firm tone, insisting that his government will seek "open and complete negotiations" with the incoming US administration.
"Everything that defines our bilateral relations is on the table, including security, migration and trade," he told an audience of Mexican diplomats. "At no time will we accept anything that goes against our dignity as a country and our dignity as Mexicans."
He added: "It is obvious that we have some differences with the next government of the United States, like the issue of the wall that Mexico of course will not pay for.
"What I can assure you is that we will work to have a good relationship with the United States and its president."
Nieto's comments were echoed by Mexico's foreign relations secretary, Luis Videgaray, who said: "It's not a matter of how much does it cost, or where's the money coming from, it's a matter of dignity and national sovereignty."
Talking tough, the Mexican president also said it is time to put an end to the illegal flow of guns from the US to its southern neighbour, which it blames for arming drug cartels.