Mexico presidential candidate wants amnesty for drug cartel kingpins
Andrés Manuel López Obrador made the comments in "Mexico's most violent state" Guerrero.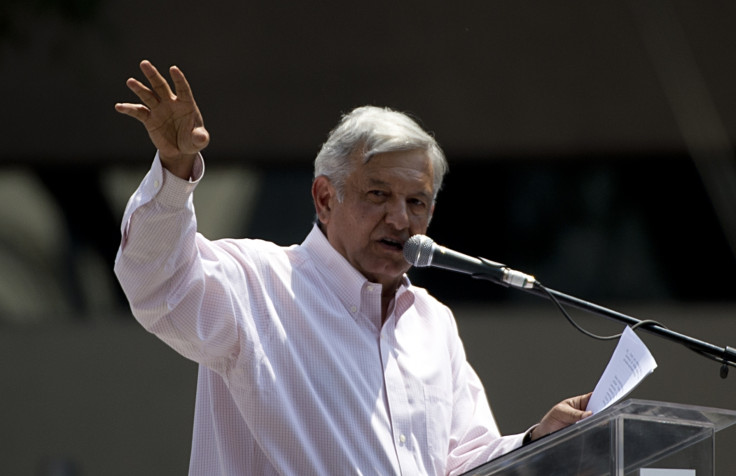 A Mexican presidential candidate has sparked outrage by suggesting that drug cartel kingpins should be offered amnesty.
The National Regeneration Movement's Andrés Manuel López Obrador proposed the idea during a speech over the weekend (2 December) in Guerrero, dubbed "Mexico's most violent state" due to more than 1,900 homicides recorded there so far this year.
The former mayor of Mexico City said he wants to start a dialogue on Mexico's drug war, which has claimed an estimated 200,000 lives over the past decade. Mexico recently registered the most murderous month in its history, with 2,371 homicides recorded in October.
"If it is necessary... we will talk about granting amnesty so long as the victims and their families are willing," he told a crowd in Guerrero.
He later told reporters: "We'll propose it. I'm analysing it. What I can say is that we will leave no issue without discussion if it has to do with peace and tranquility."
His political opponents slammed the comments as insensitive, pointing out that opium and heroin cartels have destroyed the lives of thousands in Guerrero.
Between eight to ten bodies arrive daily at morgues in the state, according to the Reforma newspaper. Catholic priest Mario Campos told The Guardian this month: "Our society has been battered by the narcos and our institutions are not responding or doing their jobs."
Ángel Ávila, president of the Democratic Revolution Party (PRD) national council, criticised López Obrador's proposal for failing to address the societal issues caused by Mexico's drug cartels.
"What this country needs is justice for all those people who have been victims of organised crime, for all those who have been relegated by the current political and economic system. This country needs institutions that provide justice and protect citizens' rights," he said.
"[López Obrador's] proposal reflects complete ignorance of the reality of the country and allows his great contempt for the law and the constitution to be seen," he added.
When asked about López Obrador's amnesty call, José Díaz Navarro, whose brother was kidnapped and killed in Guerrero, told El Universal: "I would hope they never kidnap, torture, kill, disappear and burn [his] loved ones."
López Obrador is leading in early polls, with a recent survey in the Reforma newspaper putting him 14 points ahead of the other prominent candidate, former finance minister José Antonio Meade.
His promise to drain the swamp by cracking down on the "mafias of power" has struck a chord with many Mexicans disillusioned with the high levels of corruption and soaring violence.