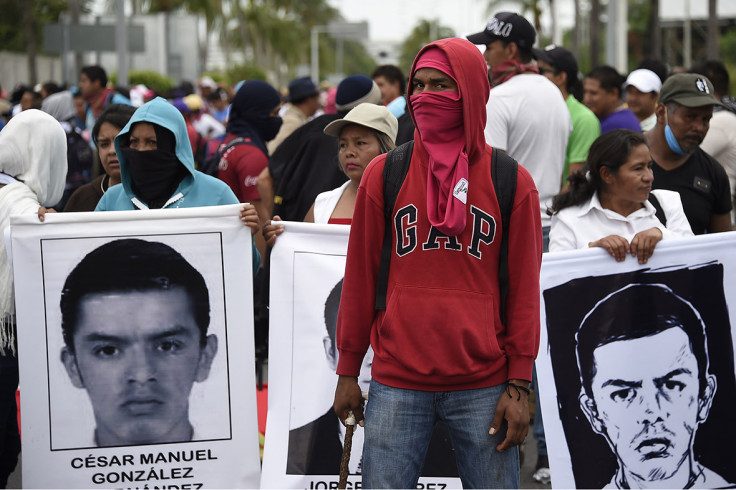 Mexican police have found 10 decapitated corpses and 11 heads in unmarked graves in the gang-ridden state of Guerrero where 43 students went missing in September.
The bodies, found 31 miles east of the capital of Chilpancingo, showed signs of torture and had their hands tied, local security officials said on Wednesday (7 January).
The 11 severed heads were discovered in one grave inside four black plastic bags, the state prosecutor's office said in a statement. The identity of the victims remains unclear.
The government is still investigating what happened to the missing Ayotzinapa Teacher Training College students, which has caused outrage and mass protests in Mexico.
There have been reports that Iguala's former mayor Jose Luis Abarca and his wife Maria de los Angeles Pineda masterminded the attack with local police who handed them over to drug gang Guerreros Unidos, which later massacred and incinerated them.
Prosecutors said the students' bodies burned on a pyre for 14 hours, making it almost impossible for authorities to identify the remains. The first victim was identified last month as Alexander Mora Venancio, 19, whose bone fragments were found near a rubbish dump in Cocula.
Over 50 people have been arrested so far in connection with the incident including dozens of police, who have links with Guerreros Unidos as well as the gang's leader Sidronio Casarrubias.
Casarrubias told police Abarca and his wife ordered two police officers to stop students from disrupting a political event where Pineda was speaking.
It has been alleged that Iguala police picked up the students and took them to Cocula - in a dump truck "still alive" - to an area on the outskirts of the city where mass graves have been found.
Federal Police General Commissioner Enrique Galindo denied his force's involvement in the incident.
In a statement last month the commissioner said: "With the reports that I have, generated by the Federal Police, knowing the state of force deployed in Iguala on the night of the 26, I would tell you that the Federal Police did not participate, at least we don't have clear evidence of active participation."
In a meeting earlier this week, US President Barack Obama told Mexican President Enrique Pena Nieto that he was committed to helping his country remove the cartels, but that it was up to the Mexican government to resolve the problem.
Abarca is being held in a maximum security person while his wife is also being detained by police as prosecutors build their case against her.