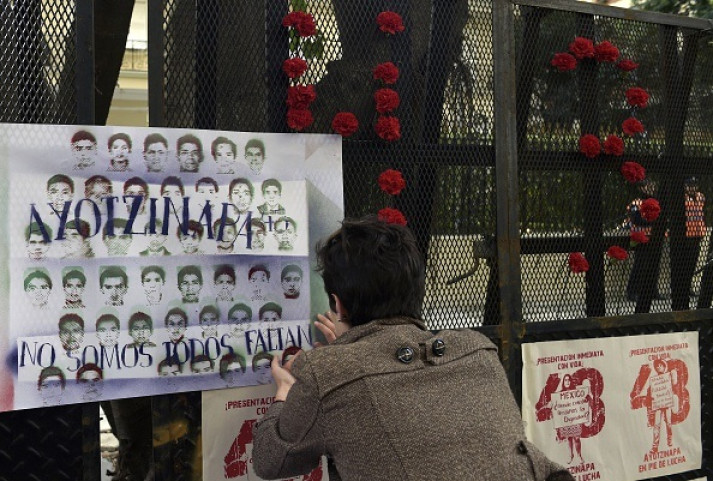 Mexican President Enrique Pena Nieto has announced a new special team will investigate the disappearance of 43 students on the one year anniversary of their disappearance. The students have been missing since 26 September 2014, when they were abducted in the city of Iguala in Guerrero state.
The federal government claimed police officers from Iguala and the nearby town of Cocula illegally detained the students and turned them over to a local drug gang called the Guerreros Unidos, which then allegedly killed them. But the families of the missing have never accepted that version of events.
The president's spokesman, Eduardo Sanchez, said the families had presented eight demands to the Mexican president, who has now instructed his cabinet to analyse each request and get back to them. According to Sanchez, Peña Nieto said to the families: "We're on the same side. You and I are looking for the same thing," before instructing a special investigative team and prosecutor to handle the case.
Mario Gonzalez's son is among the missing students. He told the LA Times: "What guarantee do we have that this new investigation won't be more theatre? We're not going to give up, we're going to continue searching."
Believed to be among the families' demands is that the Mexican authorities should look into the possible role of the army in the disappearance. They are also hoping for an investigation into those responsible for a previous inquiry, which they feel misled them.
The Inter-American Commission on Human Rights sent a team of international experts who spent six months reviewing the government's investigation and found a number of flaws in the operation. They concluded the bodies of 43 students could not have been burned at a garbage dump in Cocula where the government maintained they were incinerated.
The students are believed to have come under fire from local police as they were gathering for a commemoration in Mexico City. They are said to have been detained and abducted after they tried to leave the city on local buses.
More than 25,000 people have disappeared in Mexico between 2007 and 31 July 2015, according to Mexican government figures. And Sanchez confirmed on 24 September that international experts would be involved in a third investigation of the alleged incineration site.
Ahead of the one year anniversary, on 22 September, nine people were injured and a truck was set on fire, after students from the school where the 43 trainee teachers went missing in 2014 clashed with the police on the outskirts of Chilpancingo. The clashes started around 7.40am when a group of students and relatives headed from Tixtla, where the school is located, to Chilpancingo to take part in a protest.