More than 3,000 violent Islamic extremists are in the UK at the moment and some 12 jihadi terror plots have been foiled in the past three years, the director general of MI5 has said in the first ever newspaper interview by a serving head of the British security service.
Andrew Parker also used the interview with the Guardian - of which published the Snowden files and has been an active campaigner against extra powers for the security services - to claim that Russia was becoming an increasing threat to the stability of the UK.
Parker said most of the violent extremists were British and that Islamic State (Isis) members in Syria and Iraq were trying to incite terror plots against the UK.
But despite the focus on extremism, he said Russia posed an increasing threat through its use of cyber warfare, as Russian agents in the UK targeted military secrets, industrial projects and government.
"It (Russia) is using its whole range of state organs and powers to push its foreign policy abroad in increasingly aggressive ways – involving propaganda, espionage, subversion and cyber-attacks.
"Russia is at work across Europe and in the UK today. It is MI5's job to get in the way of that," he said.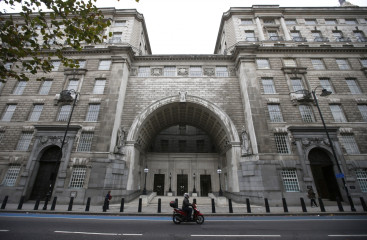 "Russia increasingly seems to define itself by opposition to the west and seems to act accordingly.
"You can see that on the ground with Russia's activities in Ukraine and Syria. But there is high-volume activity out of sight with the cyber-threat. Russia has been a covert threat for decades. What's different these days is that there are more and more methods available," he told the paper.
Parker defended the controversial investigatory powers bill, which has gone before the House of Lords as necessary in the fight against terror and that the government had reached the right balance between privacy and security.
Parker gave the interview to the Guardian, despite criticising the paper for publishing the Snowden revelations.
He said: "I spoke out at the time about the damage that was done to the work of British and allied intelligence agencies, about having so much about how we operate revealed to our adversaries. Secrecy is not something we need for its own sake."
He also dismissed claims that Brexit could affect Britain's co-operation with the security services of other European countries, and that he wanted to see more women and people from ethnic minorities recruited into the service.
Meanwhile, on Tuesday (1 November), Phillip Hammond will outline how Britain will "strike back" against cyber attacks by foreign governments and criminal hackers.
The chancellor will announce a £1.9bn programme to improve cyber defences, and will point out that the the risk of hackers targeting air traffic control and power grid networks is among the biggest concerns for the government.